'Love Is Blind' Season 4 Sets Release Date: See Full Schedule (VIDEO)
Netflix is churning out new episodes of Love Is Blind as fast as it can. Less than two weeks after the February 10 release of Season 3's After the Altar episodes, the streamer has announced when Love Is Blind Season 4 comes out. And fans are the stars of the first promo for the season, above.
A new batch of singles will enter the pods when Love Is Blind Season 4 premieres on Friday, March 24 on Netflix, and unlike previous seasons, the fourth installment of the reality dating show will take place in Seattle, Washington instead of Texas.
"Singles who want to be loved for who they are have signed up for a less-conventional approach to modern dating in Seattle, and will choose someone to marry without ever meeting them," Netflix describes of the new season.
"Over several weeks, the newly engaged couples will move in together, plan their wedding and find out if their physical connection matches their strong emotional bond developed in the Pods," the streamer continues. "When their wedding day arrives, will real-world realities and external factors push them apart, or will they marry the person they fell blindly in love with? Hosted by Nick and Vanessa Lachey, this addictive 12-episode series will uncover whether looks, race or age do matter, or if love really is blind."
There have been a handful of success stories from this dating experiment's three seasons. Two of the couples that are still married hail from Season 3 (Alexa and Brennon Lemieux and Matt Bolton and Colleen Reed). If Season 4 is anything like the others, there's sure to be some dramatic stories in the new episodes.
Starting March 24, new episodes of Love Is Blind will roll out each Friday across 12 episodes, following the couples' journey for love. Here's the Love Is Blind Season 4 release schedule:
Week 1 (Friday, March 24): Episodes 1-5
Week 2 (Friday, March 31): Episodes 6-8
Week 3 (Friday, April 7): Episodes 9-11
Week 4 (Friday, April 14): Episode 12
As with previous seasons, the last two episodes will likely feature the weddings and the 12th episode will be the reunion.
Love Is Blind is a product of Kinetic Content. Executive producers are Chris Coelen, Ally Simpson, Eric Detwiler, Brent Gauches, Brian Smith, and Heather Crowe.
Love Is Blind, Season 4 Premiere, Friday, March 24, Netflix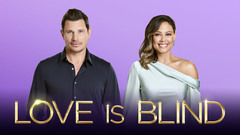 Powered by