'Lucky Hank': Bob Odenkirk Is a Professor on the Edge in Full Trailer (VIDEO)
Bob Odenkirk is making his TV comeback in a big way following the success of Better Call Saul's final season, as his new show Lucky Hank prepares to launch across four of AMC Networks' linear channels with BBC America, IFC, and SundanceTV joining the lineup.
It was previously announced that the series would premiere on AMC and AMC+, where it will still air and stream in addition to the three other networks mentioned above. Lucky Hank is set to debut Sunday, March 19 at 9/8c. This news coincides with the release of the official full-length trailer for the show which will make its world premiere at South By Southwest (SXSW) in Austin on March, 11.
Fresh off his long-running role as Jimmy McGill in Breaking Bad's prequel, Better Call Saul, Odenkirk sets his sights on the role of William Henry "Hank" Devereaux Jr., the unlikely chairman of Railton College's English department. Lucky Hank follows the professor in the midst of a mid-life crisis as he works at the badly underfunded college in a working-class American town.
While Hank's discontent is rooted in unresolved issues with his father, which begins to bleed into his life with a mediocre and entitled student body, and in the fact that his department is more divided than the Balkans. Meanwhile, Mireille Enos costars as Hank's wife Lily who is described as emotionally grounded and unflappable, she's the Vice Principal of the local high school in their rural Pennsylvania town. When Frank's life begins to unravel, Lily begins to question the path she's on.
All of this and more is teased in the full trailer above which offers a peek at the rest of the show's cast including Sara Amini, Diedrich Bader, Suzanne Cryer, Olivia Scott Welch, Cedric Yarbrough, Alvina August, Tom Bower, Shannon DeVido, Chris Diamantopoulos, Lilah Fitzgerald, Jackson Kelly, Arthur Keng, Kyle Maclachlan, and Oscar Nuñez.
Lucky Hank is adapted from Richard Russo's Pulitzer Prize-winning novel Straight Man by co-showrunners Aaron Zelman and Paul Lieberstein who executive produce the show alongside Odenkirk, Peter Farrelly, Mark Johnson, Russo, Naomi Odenkirk, Marc Provissiero, and Jessica Held. Don't miss the drama for yourself, check out the trailer, above, and tune in across AMC Networks when Lucy Hank premieres this March.
Lucky Hank, Series Premiere, Sunday, March 19, 9/8c, AMC, AMC+, BBC America, IFC & SundanceTV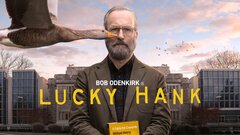 Powered by