'NCIS': Brian Dietzen on Writing Parker as 'a Man on Fire'
A pattern is developing when NCIS star Brian Dietzen and Scott Williams co-write an episode: It's going to be an emotional one.
Their first, Season 19's "The Helpers," saw Dr. Jimmy Palmer (Dietzen) and Kasie Hines (Diona Reasonover) poisoned — while his daughter was visiting him at work. Now, in the February 14 "Old Wounds," Season 20 dives into Alden Parker's (Gary Cole) history, with the agent having to deal with his emotions when a conman from his FBI past is the prime suspect in the murder of a navy officer transporting millions of dollars' worth of opioids.
Here, Dietzen previews the episode, talks Dr. Jimmy Palmer and Jessica Knight's (Katrina Law) relationship, and more.
Preview how the case challenges the team, especially Parker.
Brian Dietzen: A long dormant and very personal case from Parker's FBI days comes back and the team watches as it transforms Parker from a happy, protective team leader to kind of a man on fire and they have to get to the bottom of it.
We learn quite a bit about Parker in this episode and see a very different side of him. Talk about getting to write and explore that with this character who's newest to the team.
I'll put it a lot of that at the feet of Gary Cole, who I think is one of the most talented actors. I've admired his career for years and his talent for years. So in knowing I was going to be able to co-write another episode along with Scott Williams, I really wanted to center it on Parker's history. We've seen Parker have a lot of these different habits and hobbies and idiosyncratic behaviors and his very overt caring about his team and I wanted to know why our showrunner, Steve Binder, and several of our other writers, in a very talented way, laid those breadcrumbs for the audience to see. So I asked, can I do an episode where I explain some of these things, where these things were born from? And Steve said yes.
I got to say, when I talked to Gary Cole about it — we were actually both in Hawai'i shooting the Hawai'i crossover and we had dinner together — and I said, "Here's what I want to do for your character: I want to do a kind of an origin story as to why you have these hobbies, why you do the pastries thing, why this and that," I pitched him the idea for the episode, he said, "I'm game. This sounds great." And boy, he did not disappoint. He's a consummate professional and just a hell of a good guy.
Something that two episodes you've written have in common is they're heavy with emotion — for Jimmy in the first, now for Parker. What do you enjoy most about writing those kinds of scenes?
I think what I enjoyed the most about it is that I was raised on mid-century American theater — a lot of Arthur Miller, Eugene O'Neill, Tennessee Williams, that sort of stuff — and a lot of Shakespeare. I did a lot of Shakespeare festival, which is obviously laden with a lot of emotion as well. It's the thing that gets to me the most, and to put it hand in hand with what NCIS does best, we tend to not be just a case-of-the-week type of episode. There are other TV shows that are ripped from the headlines and our shows tend to be ripped from the characters. So while we may be solving a petty officer's murder or something, what has always differentiated our show is that it concentrates on how it affects our team members. There's once in a while we get an episode where we get to peek into the history of our team members and it's generally pretty affecting. And that's what I wanted to achieve on this one.
Is that something you'd like to do again with the next episode you write or would you want to maybe do something a little lighter?
I would love to do a lighter show, for sure. I think that there's so much room on our show because we have such a talented cast. I can see a million different more comedically inclined scripts whether it's Wilmer [Valderrama, who plays Nick Torres] and Sean [Murray, who plays Timothy McGee] having a buddy cop thing or having an odd pairing of say, Vance [Rocky Carroll] and Jimmy, or something like that. There's so many good actors on our show and I can openly compliment my fellow actors this way pretty easily that it would be a joy to write for any one of them. But that said, if I could dig into some darker stuff with any one of these characters, that would be a joy to do as well.
I love how NCIS is handling Jimmy and Knight's relationship. We're getting to see the adorable moments but also the harder ones, like her being part of his daughter's life. What's next?
To be honest, I'm not sure what they're going to write next, but I think that whatever's going on behind the scenes with those two characters, I really love the fact that this show is getting to exhibit and display a healthy relationship between these two characters. I think it was something that was very important for both myself and Katrina Law and they're really running with it.
So like you said, that very hard conversation that they had to have about Knight's relationship with Jimmy's daughter and how difficult it was for Jimmy to cross that final bridge of letting go of his wife, those are real conversations that people have when they lose a loved one, and the amount of respect that that's being shown to Jimmy and to this relationship by our talented writing staff, by the network and everything, I love it. I think it's great. And I think that no matter what happens moving forward, it seems like these two are going to be pretty solid. Whatever comes next, I don't know, but I look forward to more. I love having scenes between those two characters. It's a highlight for me.
It's the first real relationship we're seeing on the show because usually there's a kiss right before one person leaves, but we're actually see this play out.
It's true. There's a lot of one kiss before someone gets on a plane and we don't see them again. And that that's been the history of NCIS. There's been some amazing relationships on the show, whether it be Tony [Michael Weatherly] and Ziva [Cote de Pablo] or Ellie [Emily Wickersham] and Nick or Gibbs [Mark Harmon] and Sloane [Maria Bello]. There's been a lot that's happened, but you're right, it's never been an extended kind of open to everyone else that we are together sort of relationship. And I like that. I like that it's the first one to do that and why not, right? These characters are put through hell every single year. They deserve a little bit of happiness as well.
This episode also has something that should be addressed more often, the fact that Jimmy and Kasie need assistants. What would Jimmy want in an assistant though?
[Laughs] I think he'd want Kasie, to be honest. It's interesting when you get to spend so much time with someone in a work environment and you can finish one another's sentences and you know what they do as a partner does, that's the sort of thing that you fall back on quite a bit. So the same way that for years it was Ducky [David McCallum] and Jimmy together, now that we have this close partnership between Jimmy and Kasie, I wanted to address that a little bit within this episode.
NCIS, Mondays, 9/8c, CBS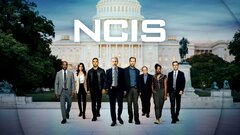 NCIS
where to stream
Powered by