'Feud': How Did Jessica Lange and Susan Sarandon Become Bette and Joan?
The Hollywood of yesteryear (or at least the early 1960s) took center stage today at the FX press day at the Television Critics Association Winter Press Tour with a panel for the upcoming eight-part anthology series, Feud: Bette and Joan.
RELATED: 2017 Winter TCA: TV's Biggest Stars Pose in Our Portrait Studio
The Ryan Murphy-developed series, based on the screenplay Best Actress by Jaffe Cohen and Michael Zam, delves into the time period when famous Hollywood rivals Joan Crawford (Jessica Lange) and Bette Davis (Susan Sarandon) joined forces to make the 1962 horror classic What Ever Happened to Baby Jane? Besides Murphy, Lange and Sarandon, also present on the panel were co-stars Alison Wright (who plays Baby Jane director Robert Aldrich's assistant Pauline), Catherine Zeta-Jones (Olivia de Havilland), Kiernan Shipka (B.D. Sherry, Bette Davis' daughter), as well as executive producers Dede Gardner and Tim Minear.
In the early episodes of the series, gossip items are seen planted with infamous columnists Hedda Hopper (Judy Davis) and Louella Parsons, but how much of that was fact and not Hollywood lore?
"A lot of the gossip items are actually verbatim quotes taken not always from a gossip column but often from an interview or an off-the-record conversation that they had with another writer," Minear said. "A lot of that stuff is directly from the fabulous horses' mouths."
With the larger-than-life personas that Davis and Crawford embodied throughout their careers (and even since they've died), Murphy is well aware there's a camp element to the show but had a broader vision when shaping Feud.
"I formed a foundation called The Half Foundation, which is about changing how I was doing business and making sure that 50 percent of all the directorial slots in my company were women. From that came a lot of discussions with women in the entertainment business where I was talking about what can I do better," Murphy explained. "What came out of that for me was a lot of moving sentiments from women, and from that I decided to jump off into Feud…we were interested in doing a show about two women and their lives and the problems that they had. I wasn't really interested in doing anything that was 'campy' or 'camp.' I was interested in something a little deeper and something a little more emotional and painful."
RELATED: FX sets premiere dates for The Americans, Archer and Feud
Sarandon admitted she had many fears of stepping into film icon Davis' shoes for the show. "The first six weeks just were terrifying to me because [I was] trying to find a way that you felt was grounded and real and at the same time so extreme. All those things are historically accurate," the Academy Award winner said. "Finally, I just surrendered and hoped for the best."
Lange dove into research to find her way to playing Crawford. "The thing to me with Joan is she was never not on, and some actors by nature are just that way," she said. "When she was in public she was performing, so it was very hard to find a moment where you could really discern what the heart and soul of that character was. As an actor you go back to, okay, this is what happened to her in her childhood and determined who she was—the physical abuse, the sexual abuse, the poverty, all these things she was fighting against the rest of her life."
Since she didn't get to spend time or speak with de Havilland before cameras rolled, Zeta-Jones realized she had sources closer than one might realize since her in-laws are Hollywood legend Kirk Douglas and his wife, Anne Buydens.
"[Kirk] has been my source, and actually my step-mother-in-law was very good friends [with de Havilland], more so than Kirk…she knew Olivia's husband, Pierre Galante…my source has been that." Zeta-Jones added that she got an impression of the actress that was different from her public persona. "I feel she [was not] this sweet melody that she was portrayed as to many of her fans. She was a tough, ball-breaking woman of her time."
Is what we see in the series about how older women are treated in Hollywood any different today? "Aging actresses still have the same problem. I can guarantee that," said Sarandon. Lange added, "This show is [about] what Hollywood does to women as they age, which is just a microcosm of what happens to women generally when they age, [and] I think with this film we've touched on that in a very profound way. Joan was 10 years younger when this takes place than I am now, and yet her career was finished because of her age…I think what we've tried to do is see not just in the overall milieu of Hollywood, but what happens to women as they age and become considered less than important."
Feud: Bette and Joan, series premiere, March 5 at 10/9c, FX.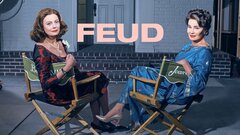 Powered by