'The Blacklist': Anya Banerjee Introduces Meera's Daughter Siya — Watch Her Intro (VIDEO)
When the 10th and final season NBC's venerable spy drama The Blacklist premieres on Sunday, February 26, Raymond Reddington (James Spader) has gone missing and the FBI's Special Task Force is down by two other agents. (Amir Arison's and Laura Sohn's characters exited in last season's finale.) Who will fill the gap?
Enter Siya Malik. Played by Anya Banerjee, Siya is an operative with Britain's MI6 and the daughter of CIA agent Meera Malik (Parminder Nagra), who was murdered in Season 1, on an operation with Donald Ressler, Diego Klattenhoff.
TV Insider has the exclusive first look at Banerjee's first scene in The Blacklist Season 10 premiere. As seen in Siya's introduction above, the character is whip-smart and already knows more top-secret intel than the feds are comfortable with, all thanks to her mother's firsthand experience.
"Siya is super quick-witted, funny, and skilled," says Banerjee, a New Zealand native. "There's a lightness and vitality to her, within the darkness of her vocation. Like [Meera], she's good at detecting people's motives. She has a lot of internal conflict, because she's doing her job, but she also has a personal agenda: finding out what happened to her mother. Sometimes these two things can be in conflict. There's a lot of moral gray areas which we'll come to learn about we follow her journey across the season."
"I was a total Blacklist fan," the actress reveals about her "first US television role ever! In preparation for the role, I watched all of the first season with special attention to Parminder. I did what you're not supposed to do as an actor and got attached to the character. I felt a special kind of kindred spirit with her. I personally have always been a huge fan of Parminder Nagra," she continues. "I saw Bend It Like Beckham when I was in primary and went on to idolize her."
She also speaks highly of Spader. "Working with him is a masterclass! Everyone else was so welcoming to me especially as a newcomer. I'm having an absolute blast. I was in great hands, with Harry's warmth and gravitas, and Diego and Hisham constantly cracking jokes, lightening the atmosphere, and making me feel a little bit less nervous was invaluable in terms of being the only woman on the team."
She continues, "one of the things that I love about Siya most is her resilience and her strength as a woman in a sometimes male-dominated profession and world. You'll see that every time someone underestimates her, she uses it as something that stokes the fire inside and keeps her going on this relentless struggle towards the truth of what happened to her mom."
The newcomer joins the force at a dangerous time, with escaped terrorist Wujing (Chin Han), an early Blacklister taken down by Reddington, rallying other burned cohorts to wreak revenge on the international crime boss turned secret FBI informant who may finally face exposure. "We'll see some familiar faces," Banerjee teases. "And Red Reddington and the Task Force are going to be in unprecedented danger!"
The game's on when Reddington resurfaces, leading operatives to a larger conspiracy and a meet-and-greet with Siya. Our advice for the team: Don't underestimate her. According to Banerjee, "when push comes to shove, she gets the deed done."
The Blacklist, 10th and Final Season Premiere, Sunday, February 26, 10/9c, NBC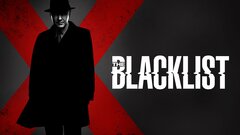 Powered by