Roush Review: Playing a Lying Game in ABC's 'The Company You Keep' Caper
On some shows, the truth can set you free. Not so much on ABC's slick, sexy The Company You Keep, which could just as easily be titled The Secrets They Keep. Or, maybe, This Is Who?
This enjoyable, though torturously contrived, caper revels in deception, starting with its dazzling and oh-so-telegenic heroes: suave con artist Charlie (Milo Ventimiglia, a world removed from the earnest dad of This Is Us), who's the frontman of his hustling and unrepentant family of criminals; and glam undercover CIA agent Emma (Catherine Haena Kim), who can't even reveal her more honorable profession to her own folks. In the pilot episode, they meet cute at a posh hotel bar while nursing separate heartaches.
"Relationships — what a racket," Emma muses. Adds Charlie: "A shell game to conceal who you really are." If they only knew as they fall into each other's arms.
What they can't deny, of course, is their chemistry. Charlie and Emma are romantics operating their complicated subterfuges in a cruel world, and there's just enough suspense to keep things hopping as their paths keep crossing.
Even when things get serious, Company maintains a light touch, with scene-stealing support from Charlie's crime-family cohorts: Mom's William Fichtner and thirtysomething veteran Polly Draper as his parents and The Walking Dead's Sarah Wayne Callies as his sister, Birdie.
Their storyline is initially more compelling than anything happening in Emma's world, especially after they run afoul of a deadly syndicate to whom they're in hock for millions of dollars. (As Birdie puts it, "Stealing for other people sucks.") Naturally, this sinister group is the same one Emma is investigating.
How long can this affair last before Emma realizes it took a thief to steal her heart? Hard to say. For now, though, even if you suspect this might have made a better movie than a series, they're great company.
The Company You Keep, Series Premiere, Sunday, February 19, 10/9c, ABC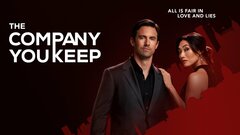 Powered by