'Frasier' Revival Begins Production With James Burrows Returning to Direct
Paramount+ has announced that its upcoming revival of Fraiser has finally entered production. To commemorate the announcement, the streamer released the above image of Frasier Crane's (Kelsey Grammer) ticket from Seattle, where the original series took place, going back to Boston, where audiences initially met the character and where the reboot will take place.
Alongside this, it's also been confirmed that legendary director and television creator James Burrows will return to Frasier to direct a couple of episodes of the new series.
The new series will be shot live in front of a studio audience in Los Angeles, as the revival is set to follow Frasier Crane (Grammer) in the next chapter of his life as he returns to [Massachusetts] with new challenges to face, new relationships to forge, and an old dream or two to fulfill finally.
Alongside the return of Grammer, the streamer confirmed 10-Emmy and five Directors Guild of America Award-winner, James Burrows. Burrows is the most nominated director in television history and is best known as co-creator, executive producer, and director of the critically acclaimed series Cheers. His television work also includes the hit series Will & Grace, Friends, Wings, Night Court, Taxi, and Dear John, among others.
Jack Cutmore-Scott will play Freddy Crane, Frasier's son, who Luke Tarsitano and Trevor Einhorn in the original NBC series played. Freddy is described as "a nuanced combination of his father and grandfather" for the sequel series. Leading British TV actor Nicholas Lyndhurst has joined the cast of the Frasier sequel series, playing Alan Cornwall. Toks Olagundoye plays Alan's colleague and head of the university psychology department, Olivia; Jess Salguerio plays Freddy's roommate, Eve; and Anders Keith portrays Frasier's nephew, David.
Frasier comes from How I Met Your Mother writer Chris Harris and Joe Cristalli, who executive produce with Kelsey Grammer, Tom Russo, and Jordan McMahon. CBS Studios produce the series in association with Grammer's Grammnet NH Productions.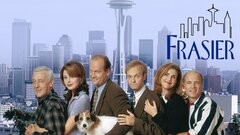 Frasier
where to stream
Powered by