Tom Brady Announces He's Retiring 'For Good'
NFL legend Tom Brady is calling it quits on his playing career, telling fans that he is "retiring, for good" this time around.
The seven-time Super Bowl winner made the announcement on Wednesday (February 1) morning, posting a video to his social media accounts.
"I'll get right to the point, I'm retiring, for good," he said. "I know the process was a pretty big deal last time, so when I woke up this morning, I figured I'd just press record and let you guys know first. You only get one super emotional retirement essay and I used my note last year."
Truly grateful on this day. Thank you 🙏🏻❤️ pic.twitter.com/j2s2sezvSS

— Tom Brady (@TomBrady) February 1, 2023
Brady initially announced his retirement on February 1, 2022, after 22 seasons of playing in the NFL. However, just 40 days later, he walked back this decision and announced he would return to the Tampa Bay Buccaneers for the 2022 season.
"Thank you guys so much, to every single one of you for supporting me, my family, my friends, my teammates, my competitors, I could go on forever there's too many," he continued in the video. "Thank you guys for allowing me to live my absolute dream. I wouldn't change a thing."
As for what's next for the football icon, well, he isn't likely to disappear from our screens for too long. In 2022, he signed a multi-year deal with Fox Sports, which said that he would become part of the NFL broadcast booth whenever he decided to retire. Fox CEO Lachlan Murdoch also said at the time that Brady would serve as an "ambassador" for the network.
In addition, Brady recently made his film debut in 80 for Brady, in which he plays himself alongside Jane Fonda, Sally Field, and Lily Tomlin. The sports comedy movie opens exclusively in movie theaters this Friday, February 3. Perhaps this could be the start of Brady's acting career?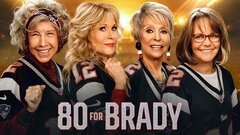 Powered by