Roseanne Barr Makes TV Standup Comedy Comeback With Fox Nation Show – See Trailer (VIDEO)
Roseanne Barr is making a return to the stage, after almost 20 years away from stand-up comedy, in a brand new special on Fox Nation titled Roseanne Barr: Cancel This!
A short teaser for the special, which premieres on Monday, February 13, aired during Sunday's NFL NFC Championship Game between the San Francisco 49ers and the Philadelphia Eagles. The clip sees the former sitcom star walking through a backstage area and onto a stage, stepping on a rose as she does so.
"Has anyone else been fired recently?" she asks the audience before laughing.
The one-hour special, which was filmed in front of a live studio audience in Houston, TX at the Cullen Theatre, will touch on topics ranging from Barr's childhood, including growing up Jewish in the Mormon citadel of Salt Lake City, to her move to Texas and becoming a parent.
In addition to the new comedy program, Fox Nation will release Who Is Roseanne Barr?, an in-depth documentary focusing on the life and career of the controversial comedian.
The Cancel This! title is a reference to a situation in 2018 when Barr was "canceled" after making a racist "joke" about former President Barack Obama adviser Valerie Jarrett, who she said would be what happened "if [the] muslim brotherhood & planet of the apes had a baby."
ABC ended up canceling the planned Roseanne revival following the backlash toward the tweet. However, the network later brought the show back as The Conners and killed off Barr's character.
"I apologize to Valerie Jarrett and to all Americans," Barr tweeted at the time before eventually leaving the social media platform. "I am truly sorry for making a bad joke about her politics and her looks. I should have known better. Forgive me-my joke was in bad taste."
Roseanne Barr: Cancel This!, Premieres, Monday, February 13, Fox Nation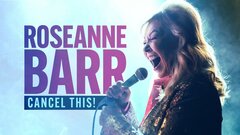 Powered by