Kenya Barris' 'You People' Controversy Explained — Did You Like the Netflix Film? (POLL)
Black-ish creator Kenya Barris is at it again with yet another Netflix project, this time in the form of his very first feature, You People, starring Jonah Hill, Eddie Murphy, Nia Long, Lauren London, Julia Louis-Dreyfus, Mike Epps, and many more.
The film showcases "a new couple and their families [reckoning] with modern love amid culture clashes, societal expectations, and generational differences," according to the official synopsis. You People features Hill as a boyfriend hoping to get the approval of his girlfriend's (London) parents, played by Long and Murphy.
But doesn't this story sound redundantly similar to previous Barris works? That's what many believed once Netflix dropped the trailer, which sparked controversy on social media for its similarities to 1967's Guess Who's Coming to Dinner? and its race-swapped remake Guess Who? from 2005. (The movie debuted in limited theaters on January 20, a week before hitting the streamer on January 27.) But more than anything, folks were more disturbed by his frequent use of interracial couples at the center of his projects.
"I hope Kenya Barris eventually heals from whatever happened to him that has him feeling the need to make every project he does defend interracial relationships and being biracial. Cause at this point, I'm starting to think his ancestors were THE Loving v. Virginia," was the viral tweet that sparked the conversation.
Barris' previous Netflix project, BlackAF, triggered a response from audiences for only reflecting the stories of light-skinned and biracial characters. It was also called out for perpetuating Hollywood's penchant for casting Black people with lighter complexions over darker ones. London will play the daughter of dark-skinned parents, Murphy and Long, in You People.
Examples have been piling up throughout Barris' career, with folks pointing out Rainbow (played by Tracee Ellis Ross) in black-ish is biracial, mixed-ish explored biracial identity, and grown-ish was criticized for not featuring any dark-skinned women (and only one dark-skinned man). Even Disney's recent Cheaper By The Dozen reboot (which Barris wrote) features couple Gabrielle Union and Zack Braff attempting to maintain a marriage and their careers while raising 12 children. It was also met with a lukewarm response.
Barris has addressed accusations surrounding colorism in the past, stating that he tries to "duplicate a version of what my family was. It speaks to the idea that there is so much colorism in the world. … So I take the good with the bad."
In a previous discussion with People, Barris also mentioned the inception of black-ish. "The seed of the show came from my own family," says Barris. "I looked around and saw that my kids were not like little black kids that I remember growing up."
Although the reasoning behind his casting decisions has been explained in the past and come from an altruistic place, people have continued to hold the creator to task for not exploring the diversity of African Americans as he is continuously given the opportunity to helm projects focused on Black people. However, others come to his defense for telling these stories, regardless of the criticism, and say the arguments do nothing more than cause division in the community and risk the platform of a Black man being taken away.
Now that You People has finally dropped on Netflix, what did you think of the film? Were the criticisms warranted? Let us know in the poll below.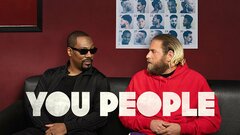 Powered by