'Below Deck': Captain Lee Returns With Shock News for His Crew (VIDEO)
The drama is only just getting started on board St. David, as two familiar faces, both friend and foe, are set to return to Below Deck in the second half of Season 10.
In a new mid-season trailer (watch below), the Bravo reality series reveals that Captain Lee Rosbach will return to work after recent health issues saw him leave the show earlier this season.
"I feel like I'm back where I belong," Rosbach says in the sneak peek. "It's like riding a bike… but it's a big bike."
Fans saw Rosbach exit the current season on December 19, as he revealed he was suffering from nerve damage in his left leg.
"As you guys know, I've been struggling with my mobility, and it's been hard," he told his crew. "And I've let you guys down, and for that, I apologize. So I've made a decision to leave the boat."
But now Rosbach is ready to return to the ocean, and, judging by the trailer, he's wasting no time whipping his crew into order. "Now get your asses back to work," he tells the team.
However, Rosbach isn't the only returning face, as controversial Stew Camille Lamb is also back on the scene, despite being fired during Rosbach's absence. Lamb immediately causes waves as she reunites with her former romantic partner Ben Willoughby, shocking her former co-workers, who don't seem particularly happy to see her.
Lamb was dismissed from the boat during last week's episode after she got into a massive fight in front of several charter guests and was later caught drinking on duty. Monday's (January 23) episode showed the fallout of the firing and the crew picking up the pieces.
Below Deck, Season 10, Mondays, 8/7c, Bravo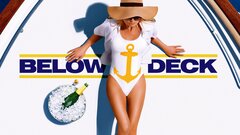 Powered by