It's Caroline vs. Sybil as 'The Vampire Diaries' Nears Its End
There's lots of mayhem, revenge, and maybe even redemption before The Vampire Diaries signs off on March 10, starting with the January 13 episode "We Have History Together."
It seems that siren Sybil (Nathalie Kelley) is still alive—despite the best efforts of Damon (Ian Somerhalder, who directed this episode). And as our favorite bloodsucker Caroline (Candice King) discovers, much to her shock in the midseason premiere (see our exclusive clip below), the vicious killer not only survived, but she's masquerading as a history teacher in front of an unlucky high school class! She'll use the kids' safety as leverage to get Caroline to locate a historical item that could be used against her.
RELATED: CW Exec Talks Nina Dobrev's Possible Return to The Vampire Diaries
Elsewhere in this episode, Stefan (Paul Wesley) and Damon are in another kind of class: They're attending an anger management session. Of course, since the vampire brothers both turned off their humanity and pledged themselves to Cade (Wole Parks) Sybil's boss from the Underworld, they're not there for counseling. Rather, they're looking for their next victim to deliver to Cade and they have their eyes on a young doctor (Alexandra Chando). But first they have to prove that she's not as moral as she seems to be and worthy of being devoured by Satanic forces.
The Vampire Diaries, Fridays, 8/7c, The CW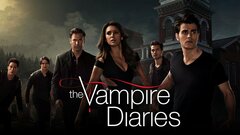 Powered by