Curtis Hamilton Explains His Decision to Come out on 'The Real Friends of WeHo' (VIDEO)
Curtis Hamilton is taking a big leap with The Real Friends of WeHo. The show's announcement served as Hamilton officially announcing to the world that he's gay. The Insecure alum spoke with TV Insider ahead of the MTV reality show's January 20 premiere, sharing his reasoning behind using this platform to come out. And in the TV Insider exclusive clip above, Hamilton discusses the decision further with co-star Dorión Renaud in the series premiere.
"I was super scared [to come out]," the actor tells us. "I hadn't told people in close proximity in my life [about his sexuality]. One of my best friends found out on Twitter and was pissed. He just felt so bad that I didn't tell him, but that's just the life I've been living. For me to go on a reality show and open up to the world with something I've just been telling the people that know me the most about, it was really scary. But I just felt it was time. I'm still scared."
Before sharing his truth, Hamilton dreamt of being an advocate for the LGBTQ+ community. He always envisioned using an on-camera platform to share his story, but wanted to be secure financially first.
"I always told my management, 'I want to be an advocate, so hopefully I can get this big job, and then I'll start to speak,'" he says. The Real Friends of WeHo has given him that chance.
Now that he's out and proud, Hamilton hopes to inspire and provide further representation for Black gay men on TV. He loves RuPaul's Drag Race and the other shows centering queer stories, but is hopeful that his presence on this reality TV show solely about the queer scene in Hollywood will help more people feel seen. That said, authenticity is his priority.
"This ain't reality TV to me, this is real. So if you came out here trying to be a caricature of yourself, leave me alone," he says with a laugh.
See Hamilton's coming out journey play out in The Real Friends of WeHo Season 1, co-starring Brad Goreski, Todrick Hall, Joey Zauzig, and Jaymes Vaughan.
The Real Friends of WeHo, Series Premiere, Friday, January 20, 9/8c, MTV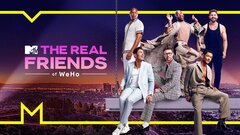 Powered by