MTV Unveils 'The Real Friends of WeHo' With Todrick Hall & More (VIDEO)
MTV is gearing up for a new reality series with The Real Friends of WeHo which will premiere Friday, January 20. Real-life West Hollywood friends in the cast include celebrity stylist Brad Goreski, choreographer and singer Todrick Hall, actor Curtis Hamilton, CEO of Buttah Skincare Dorión Renaud, host and business owner Jaymes Vaughan, and digital entrepreneur Joey Zauzig rounding out the cast.
From the show's press release, the series is described as "an unfiltered and honest look at a select group of friends living, loving, and pursuing their passions in the West Hollywood community."
"Consisting of some of Hollywood's most influential and successful LGBTQ+ celebrities, personalities, and entrepreneurs, this revealing and witty new ensemble docuseries provides an up close and personal glimpse into their lives as they perform in front of crowds of thousands, make high stakes business deals, celebrate important life milestones, work the red carpet, and reveal their most intimate truths to family and friends," reads the logline.
Todrick Hall, 37, first rose to fame on Season 9 of American Idol, but his music career has taken him far beyond the reality TV stage. Along with his pop music career and booming YouTube channel, Hall has also found success on Broadway. His stage credits include Kinky Boots, Chicago, and Waitress, to name a few.
The trailer starts out with Goreski exclaiming "West Hollywood is the epicenter of the gay world." He continues later in the trailer, "It's hard being a public person and a good example." The video cuts to Hall who says, "If the word you're looking for is scandal.. yeah, I've been involved in a few of those. I'm just gonna let people know my truth."
Get a taste of what's to come with the trailer, above, and don't miss The Real Friends of WeHo when the show debuts on MTV this month.
The Real Friends of WeHo, Series Premiere, Friday, January 20, 9 p.m. ET/PT, MTV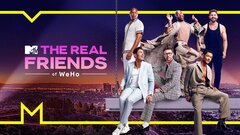 Powered by