Brian Cox Defends J.K. Rowling Over Trans Comments Controversy
Succession star Brian Cox has doubled down on his support for J.K. Rowling despite repeated anti-transgender comments the Harry Potter author has made on social media over the past few years.
Over the weekend, Cox was a guest on the BBC talk show Sunday With Laura Kuenssberg, where he was asked about the Scottish Parliament's recent approval of legislation allowing transgender people to legally change their gender without requiring any medical diagnosis.
The Scottish actor praised the decision, saying he was "very proud" of his home country for introducing the law, adding that it was "long-needed" and "a debate that has to happen."
However, when asked about Rowling, who has publicly argued against the Scottish legislation, the Emmy-winning actor defended her right to free speech.
"I don't like the way she's been treated, actually," Cox said. "I think she's entitled to her opinion; she's entitled to say what she feels. As a woman, she's very much entitled to say what she feels about her own body, and there's nobody better to say that, as a woman."
"So, I do feel that people have been a bit high and mighty about their own attitude toward J.K. Rowling, quite frankly," he added.
Cox's latest comments echo what he told Piers Morgan in an interview last May when he referred to the backlash against Rowling as "deeply unjust."
Rowling's comments regarding the trans community have been met with both backlash and support, including division within the Harry Potter franchise itself. The movie's stars, Daniel Radcliffe, Emma Watson, and Rupert Grint, have all spoken out against her remarks, while the likes of Helena Bonham Carter and Ralph Fiennes have criticized the backlash, referring to it as "horrendous" and "appalling."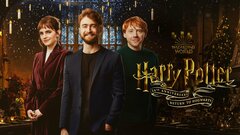 Powered by