Roush Review: No Lie, 'Poker Face' Is a Blast
Everybody lies. Few know that better than Charlie Cale (the delightful Natasha Lyonne), whose built-in BS detector is second to none in Peacock's Poker Face.
"It's like birds chirping, people lying," she explains in that raspy voice, like Marge Simpson on a whiskey bender. "The real trick of it is to figure out why. Why someone is lying."
Therein lies the considerable appeal of Poker Face, from Knives Out creator Rian Johnson. A clever homage to Columbo-style crime-solving, this irreverent murder-of-the-week caper isn't so much a whodunit as a how's-she-going-to-solve-it. An unlikely hero, Charlie is a scruffy beer-swilling drifter on the lam from criminals, a dilemma set up in the opener, when she tangles with a casino owner (Adrien Brody) and his muscle (Benjamin Bratt) who are covering up a grisly killing.
From there, traveling in her beat-up 1969 Plymouth Barracuda, Charlie tries to keep a low profile, staying off the grid in a succession of menial jobs: roadie, BBQ waitress, custodian at a nursing home. Somehow, like a more frazzled and R-rated Jessica Fletcher, she keeps stumbling upon crimes that might have stayed unsolved or unnoticed if the perps had just kept their mouths shut around Charlie, who can't help snooping with her saucer eyes when she senses something is off.
The first act of each episode depicts the killing, often involving an elaborate subterfuge, and only then do we flash back to see that Charlie has been on the scene all along, often invisible to or easily patronized by the villains. The casting of her colorful adversaries is especially inspired: Chloë Sevigny as a desperate one-hit rocker, Judith Light and S. Epatha Merkerson as 1960s radicals now in a retirement home and, most deliciously, Ellen Barkin and Tim Meadows as has-been actors at each other's throats as they attempt a dinner-theater comeback.
The fun of watching Poker Face is in its formula. There's never any doubt that these creeps will get their comeuppance, yet more than a few of these scenery-chewing guest stars share a grudging affection for Charlie's irreverent attitude until she gets too close to the truth. The takedowns are often leavened with regret, because we don't really want these fun capers to end.
In an era of dark drama and cookie-cutter procedurals, Poker Face plays a winning hand of smart humor amid the mayhem. Would I lie?
Poker Face, Series Premiere (Four Episodes), Thursday, January 26, Peacock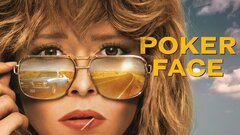 Powered by