'Criminal Minds: Evolution' Sneak Peek: Is This the End of Tara & Rebecca? (VIDEO)
Uh-oh, it looks like we maybe should be a bit more worried about Dr. Tara Lewis (Aisha Tyler) and Rebecca's (Nicole Pacent) future together than we might have originally thought we needed to be on Criminal Minds: Evolution.
In TV Insider's exclusive sneak peek of the January 12 midseason premiere, tensions are running high for the couple. When Rebecca joins Tara, both start talking. "I know I did the right thing, but I got the call. I'm under review," Rebecca reveals. Tara tries to tell her it's not her fault and shoulder some of the blame, but her girlfriend interrupts her.
"Let me finish. I have never not been on your side, but you couldn't be honest with me about what you needed, and that's not fair," Rebecca explains. Tara asks if they can talk about this at home. (Remember, they just recently moved in together!) Watch the clip above for Rebecca's response.
Showrunner Erica Messer previously told TV Insider that the threat is more to Rebecca's job and her relationship with Tara than her life (as has been the case for previous significant others of the profilers).
"The rest of this season we're gonna learn who they are. Lewis said, I have trust issues and commitment issues and all that kind of stuff. We're gonna find out their origin of how they even met and how they ended up getting together," Messer shared. "And then there's gonna be a big case in January that will really test their relationship. And so while she is certainly an ally of the BAU, even that gets tested as the season goes on"
Criminal Minds: Evolution returns from its midseason break with "True Conviction," which, as a sneak peek has revealed, will pick up right where the Paramount+ drama left off: with the rest of the BAU hoping to reach JJ (AJ Cook) and Luke (Adam Rodriguez), who were caught in an explosion while in one of Sicarius' shipping containers. Now, "that explosion looks to have exposed the true mastermind behind Sicarius, but all is not what it seems," the episode's logline teases. "Is someone taking the fall for these deadly actions? The BAU is determined to seek the truth."
Criminal Minds: Evolution, Midseason Premiere, Thursday, January 12, Paramount+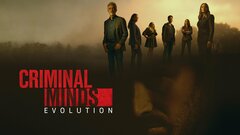 Powered by