'Criminal Minds: Evolution' Boss Teases Test for Lewis & Rebecca's Relationship, Plus How Season Ends
The wait is almost over to find out if JJ (A.J. Cook) and Luke (Adam Rodriguez) survived that explosion in one of Voit's (Zach Gilford) storage containers in the Criminal Minds: Evolution midseason finale. But that's not all we have to look forward to in the second half of the drama on Paramount+.
When new episodes resume on January 12, in addition to the BAU starting to get some wins, expect developments in Lewis' (Aisha Tyler) relationship with Rebecca (Nicole Pacent), a set-up for another season, and much more. Showrunner Erica Messer offers a preview.
I love Lewis and Rebecca together. But I know this show, I know what happens when people are in relationships, so I am worried for Rebecca. But is the threat more to her job and their relationship than maybe to her life?
Erica Messer: Yes.
What is coming up for those two?
The rest of this season we're gonna learn who they are. Lewis said, I have trust issues and commitment issues and all that kind of stuff. We're gonna find out their origin of how they even met and how they ended up getting together. And then there's gonna be a big case in January that will really test their relationship. And so while she is certainly an ally of the BAU, even that gets tested as the season goes on.
What can you tease about how the season will end? Are you ending it on a cliffhanger to set up another one? Are you keeping this case close-ended and maybe setting up something else for another season?
Part of it is closed and part of it is a tease for this can be continued next year. We wanted a satisfying ending to this 10-episode run, but we also wanted to set up the promise of more to come, so it has both of those elements.
Are you looking at it being another season of Criminal Minds: Evolution or Criminal Minds something else?
No, I think we'll keep Evolution for this Paramount+ version because the word itself is sort of constantly defining what the show has done. It's evolved. The characters have evolved. Our running time has evolved, right? Everything is new. And so one of the things when Paramount+ pitched that name was they wanted an evergreen name that didn't just mean — we didn't call it Criminal Minds: Sicarius, for example. We called it Criminal Minds: Evolution, so that in future seasons, it could still have that name.
When it comes to Voit's followers, will we see any of the ones we specifically saw in those photos in Episode 2? Some of those were so disturbing.
I know! Some, but that's the kind of thing I mean for like a next season, because there's so many things that we haven't been able to investigate. In our search for him, there's some people and some things we can sort of solve, but in other ways, there's so many, right? It was like 17,000 people had communicated with him. So it's overwhelming when you think of it like that.
And it can almost be worse if they catch Voit and then all those followers are out there without his rules.
Exactly. It's not good.
Is Voit's family in danger from him?
I think just inherently being closely connected to somebody of this magnitude, you're living with a loaded gun. They don't know it, and that's the thing — the audience knows who they're living with and what he's capable of. And so I think for that reason, the audience is always gonna be afraid for that family. How much will his family know about him is sort of the tease for the end of the season.
Does he have a limit though? Would he not kill a family member?
I would like to think he would never.
I flash back to "Normal" with Mitch Pileggi, and they found his family dead in his home…
Yeah…
So that's what I'm worried about with Voit's family now…
I know, I know! And you should be worried because this is an unstable individual and he's got a family and we don't always see that or when we do, it doesn't end well. So it is definitely a complicated factor to his complex character. But yeah, I think the audience is gonna feel really protective of that family.
Are they ever gonna get the jet back? I felt so bad for Lewis in the first episode. She was the one who really needed that jet.
[Laughs] She needed it, right? We will get it back, but it's gonna take a minute because the BAU's purse strings have been tightened. So it's gonna take a real big thing to happen for us to get it back, but we will get it back this year.
Criminal Minds: Evolution, Midseason Premiere, Thursday, January 12, Paramount+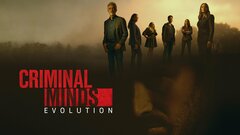 Powered by