'Married at First Sight': 5 Key Moments From the Season 16 Premiere (RECAP)
Marry Me In Tennessee
Season 16 • Episode 1
[Warning: The below contains MAJOR spoilers for Married at First Sight, Season 16, Episode 1, "Marry Me In Tennessee."]
Married at First Sight is kicking off the new year with a whole new season as the show's 16th set of singles embarks on the great social experiment of marrying a stranger at first sight.
Unveiling 10 hopefuls, viewers are introduced to the season's five pairs — Kirsten and Shaquille, Domynique and Mackinley, Nicole and Chris, Jasmine and Airris, and Gina and Clint. As the usual traditions unfold, fans get a better perspective of who these couples could be once they come together at the behest of the experts.
Below, we're breaking down all of the drama, so beware of major spoilers ahead.
Telling Friends & Family
Kirsten is the first to share the news with her family that she'll be getting married to a stranger in two short weeks, and the well-educated real estate agent admits she's been picky about men in the past, but she's ready to settle down. Upon hearing the news, Kirsten's mom is hopeful she'll find love through this experience. Meanwhile, her future husband Shaquille tells his friends about his impending wedding and notes that after having a life-altering car accident as a child, every step has led him to this point.
As for Domynique, she enjoys nights out with her girls and is extremely close to her single mother who signed her up for the experiment. Needless to say, she's got her family and friends' approval over her upcoming nuptials. After moving to Nashville to find love, self-professed introvert Mackinley is ready to settle down with the support of friends.
When Nicole tells her group of pals about her wedding, they're totally surprised, but the "b*tch with a heart of gold" who is originally from New York is determined to make this marriage work. Thankfully the love she has for her dog aligns with future hubby Chris who has a couple of pups of his own. While Chris's friends are taken by surprise over his announcement, and although he's never lived with a woman before, the future husband is hopeful he'll find the kind of relationship he's been waiting for.
The participant who meets the most resistance after sharing their planned marriage news is Airris, whose cousin doesn't believe he's ready for the kind of commitment this entails. Despite growing up without a strong father figure after losing his own dad at a young age, Airris admits he has flaws, but his desire to find his person outweighs and concerns of his. Meanwhile, he's been matched with Jasmine, who is a literal pageant queen who coaches cheerleading for a living. Telling her family together, they're excited about her news, but Jasmine's desire to find a committed husband could prove problematic if Airris's cousin doesn't think he's capable.
Rounding out the reveals and couples are Clint and Gina. As a salon owner, Gina's a driven businesswoman who is drawn to spontaneity. Her mother and friend are excited about her wedding news, whereas Clint's buddies are surprised but still supportive of his upcoming marriage. An avid sailor and adventurer, Clint hopes his bride is as aligned with his go-getter lifestyle as he is.
Singles Meet Up
Getting a taste of what the experiment will be like, the men and women meet separately as they discuss their big day ahead. Immediately Nicole establishes herself as the transplant, as she's not a Nashville native like the other women. That difference becomes even starker when she brings up how she can be a bit much and that she's hoping to implement a safe word, "pineapple," into her marriage so her new husband can tell her when he needs a break. Meanwhile, during the separate meet-ups, Shaquille and Kirsten establish how important looks are to them.
While Mackinley shares he's willing to be put out of his comfort zone, his real goal is to settle down and have kids, and Shaquille and Kirsten both share a similar sentiment during the conversations. But things turn a little judgy when the topic of sex comes up as Nicole conveys how ready she is for the honeymoon. Her future husband Chris reveals he hasn't had sex in a year, to which Airris is shocked. Both Airris and Clint reveal they've had sex as recently as two weeks before this meeting. Could these revelations have an impact on their marriages moving forward? It will remain to be seen.
Suiting Up
Partaking in the tradition of dress and tux shopping, Kirsten and Shaquille go with friends and family to select their wedding day outfits. After trying on a few gowns, Kirsten's friends and mother can't help but fawn over her dress of choice which has a flapper influence to it. Meanwhile, Shaquille has a couple of his students join in on the excitement as they guide him into choosing a dark green tux instead of a regular black tux.
Last Night of Freedom
At the bachelor and bachelorette parties, the men and women enjoy some saucy entertainment as male and female strippers danced for them and their guests. Domynique is especially flirty with one of the entertainers, which raises some eyebrows among her fellow brides. Meanwhile, Chris is ready to fall in love and Nicole seemingly conveys that making the marriage work is the only possible option and outcome.
Wedding Day
Shaquille and Domynique begin prepping for their big moment as their wedding day has arrived. While he gets emotional during a conversation with friends, Shaquille is comforted by their presence as well as his grandmother who gives him a big hug before he eventually walks down to the altar to wait for his future bride. As for Kirsten, she's nervous when she can't get a hold of her mother who isn't answering her phone. Upset that her dad has chosen to not attend because he doesn't want to adhere to Covid policies, the idea that Kirsten's side of the wedding could exclude both her parents are scary, but thankfully her mom shows up while the hair and makeup are being done. Just as she and her bridesmaids make their way to the location of the ceremony, we see Kirsten grab her brother's arm as he prepares to walk her down the aisle, but fans will have to wait and see how it all unfolds when the show returns next week.
Until then, let us know what you thought of the premiere and couples in the comments section, below, and don't miss Married at First Sight Season 16 as it continues on Lifetime.
Married at First Sight, Season 16, Wednesdays, 8/7c, Lifetime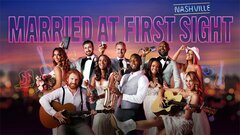 Powered by