Julia Roberts Reacts to Her Family's Connection to Slavery in 'Finding Your Roots' Sneak Peek (VIDEO)
When digging into your family history, sometimes difficult truths arise. In the Finding Your Roots Season 9 premiere, Julia Roberts learns her family's connection to slavery. And her reaction is seen in the TV Insider exclusive clip featured above.
In the video from the January 3 Season 9 premiere, airing at 8/7c on PBS, Roberts learns her Southern ancestors owned seven enslaved people during the American slavery era spanning the ages of 6 to 33 years old. There were two adult women (33 and 20), three teenagers (17, 13, and 11), and two children (8 and 6) in the group, Roberts is told by host Henry Louis Gates, Jr. The eldest women are the mothers of the children, but the Finding Your Roots team does not know the identity of the fathers.
The Gaslit star is saddened, but not surprised by this revelation. "You have to figure, if you are from the South, you're on one side of it or the other."
"It just seems very typical of that time, unfortunately," she adds, noting that it's something one must accept as a harsh reality. "You can't turn your back on history, even when you become a part of it in a way that doesn't align with your personal compass."
Also finding his roots in tonight's premiere is Glass Onion star Edward Norton. Could the two learn their family histories are intertwined? Additional Finding Your Roots Season 9 guests include Jim Acosta, Carol Burnett, Jamie Chung, Brian Cox, Billy Crudup, Claire Danes, Jeff Daniels, Angela Davis, Viola Davis, David Duchovny, Tony Gonzalez, Jeh Johnson, Van Jones, Richard Kind, Cyndi Lauper, Joe Manganiello, Tamera Mowry, Niecy Nash-Betts, and Danny Trejo.
Each week, celebrity stories are paired by the similarities they share. This season, Cox and Davis will dive into the uncharted territory of their genealogy, Chung, Lauper, and Trejo will explore the immigration history of their ancestors, Manganiello and Gonzalez will uncover names of relatives they never knew, Burnett and Nash Betts will see family mysteries solved by DNA, and more illuminating stories will come to light.
Finding Your Roots, Season 9 Premiere, Tuesday, January 3, 8/7c, PBS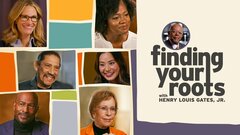 Powered by