Meet Will Trent, 'Finding Your Roots,' 'Chippendales' Finale, a Cold Case on 'FBI'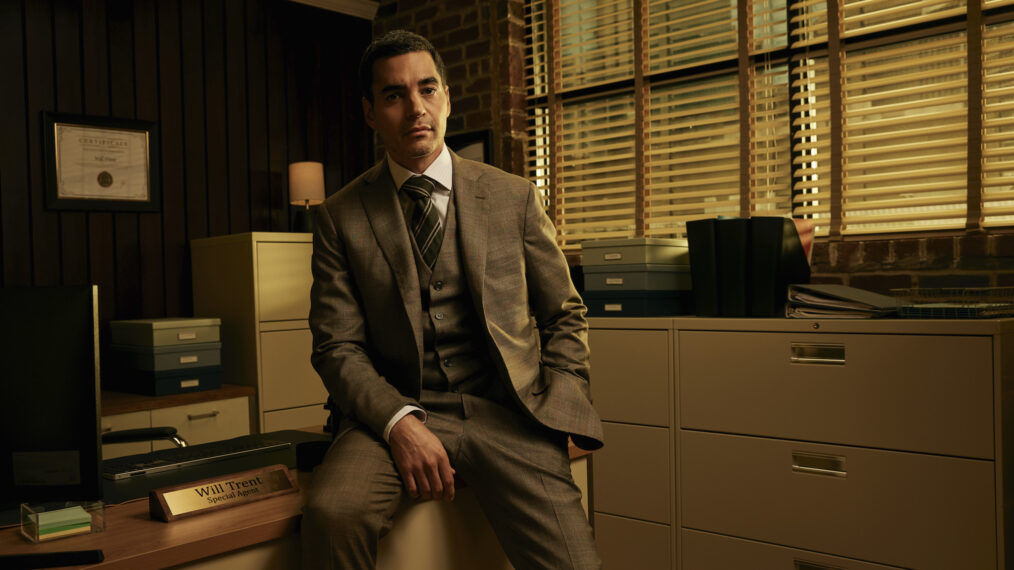 Will Trent
The chips on Will Trent's well-tailored shoulders would weigh down many a detective. But Ramón Rodríguez brings an understated charm to the hero of Karin Slaughter's excellent page-turners, now a weekly series hoping to duplicate the ratings success of Big Sky (loosely based on C.J. Box's Cassie Dewell thrillers). Will bears actual scars from his traumatic childhood spent in foster care, and he's severely dyslexic—though modestly brags that he's "a pretty observant guy" when it comes to reading crime scenes like Atlanta's answer to Sherlock Holmes. The local cops despise the Georgia Bureau of Investigation agent for having rooted out corruption with the department. Not that it ruffles his three-piece suits. Will is an engaging character who elevates his occasionally overheated eponymous crime drama with wry humor and sensitivity, especially when it comes to his adopted Chihuahua named Betty and to his fellow cop and group-home survivor, the even tougher-skinned Angie (the terrific Erika Christensen). Let's hope Will can stand out from the glut of police procedurals.
Finding Your Roots
The ninth season of the absorbing genealogical series opens with two movie stars going on a personal journey through family and American history, as Gates reveals details about their ancestors' pasts to Oscar winner Julia Roberts and Glass Onion headliner Edward Norton. They might even discover a connection to each other along the way. It's been known to happen.
Welcome to Chippendales
The finale of the true-crime docudrama jumps forward several years, with disgraced and on-the-lam club founder Steve Banerjee (Kumail Nanjiani) hiding out in Switzerland, where his dark deeds catch up to him. "When you're someone like me, you can't stop fighting," he tries to explain, self-pityingly, regarding his status as an immigrant outsider. One aspect of his tragedy is that he could never be satisfied with his success, and he paid the ultimate price in self-loathing.
FBI
All three of the Dick Wolf FBI crime dramas are back from holiday hiatus, starting with an abduction that reopens a case from 18 years ago, one of the first in Special Agent in Charge Isobel Castille's (Alana De La Garza) career. The investigation reunites her with her former partner, played by Damages' Tate Donovan. Followed by FBI: International (9/9c), with the Fly Team off to Budapest to stop a major art heist, and FBI: Most Wanted (10/9c), with an investigation into the kidnapping of a celebrity child psychologist.
Inside Tuesday TV:
The Rookie (8/7c, ABC): Now on a new night, the crime drama sends the LAPD on a citywide manhunt following a bank robbery. Off duty, Tim (Erin Winter) goes on his first date with Lucy (Melissa O'Neil). Followed by spinoff The Rookie: Feds (9/8c), where the team looks for a caller who's threatening to expose the identity of undercover agents. The Rookie's Nathan Fillion guests as Officer John Nolan, who helps Simone (Niecy Nash-Betts) remodel her dad Cutty's (Frankie Faison) garage.
The Resident (8/7c, Fox): Kit (Jane Leeves) is the messenger of bad news, when she announces that Chastain is closing down the ER's trauma unit because of budget cuts. Imagine telling that to New Amsterdam's Dr. Bloom.
New Amsterdam (10/9c, NBC): Speaking of which, the hospital drama begins its final run of episodes with Bloom heading to a wilderness corporate retreat with Max (Ryan Eggold), Wilder (Sandra Mae Frank) and Iggy (Tyler Labine)—just in time for Helen's (Freema Agyeman) unexpected and awkward return from London.
The Lie Detector (9/8c, PBS): American Experience explores the controversial history of the polygraph, which all too easily became an instrument of persecution and intimidation. Also on PBS: Frontline opens 2023 with a two-part report, "Global Spyware Scandal: Exposing Pegasus" (10/9c), concluding Jan. 10, investigating the hacking spyware Pegasus, which has been sold to governments around the world and used to spy on activists and journalists among others.
Sometimes When We Touch (streaming on Paramount+): Mellow out to a three-part docuseries charting the history of soft rock, going behind the music with pivotal figures including Lionel Richie, Kenny Loggins, Hall & Oates, Air Supply, Ambrosia, Michael McDonald, The Captain & Tennille, The Carpenters and more.