How 'The View' Paid Tribute to Barbara Walters
The View paid tribute to its creator and former co-host, Barbara Walters, in its first show since the news of her death broke on Friday, December 30.
Walters, who was 93 when she died, was known for breaking barriers as a woman in broadcast reporting, and that passion was manifested in ABC's daytime talk show featuring a panel of women with differing views and backgrounds as they come together to discuss current events. Addressing her death, co-host and Walters' former collaborator Whoopi Goldberg said, "Tributes are pouring in from around the world to celebrate the life of Barbara Walters."
During the Monday, January 3 episode, Goldberg continued to say that Walters is "the reason why we're all sitting here," adding, "really, if not for her I don't know where most of us would be." As viewers will recall, The View debuted in 1997 with Walters who was joined by fellow panelists Meredith Vieira, Star Jones, Debbie Matenopoulos, and Joy Behar.
For now, Behar is the only original panelist remaining on the program and appears alongside longtime co-host Goldberg, Sunny Hostin, Sara Haines, Ana Navarro, and Alyssa Farah Griffin. On the January 3 episode, the current panelists were joined by former co-hosts Matenopoulos in-studio, while Jones and Vieira joined the table via satellite to pay tribute to Walters.
"The best seat in the house at any social event was next to Barbara Walters because she could tell you everything about anybody in the room," Jones recalled of her former colleague during the broadcast. "Half the time, she had either interviewed them, done a story on them, heard a story about them, and she would dish with the best of them, let me tell you. Going to lunch with BW, baby, you would get all the information."
Meanwhile, Behar chimed in saying, "She very much defied sexism and defied ageism, she went right into the jaws of the lion there when she had to deal with people like Harry Reasoner. She was not just a friend to us, she was one of a kind and very important to the industry."
Hostin recalled her early days co-hosting when Walters was still part of the show and how she helped her rewrite questions. "I was so scared and I was so nervous and she validated my opinion. And after that day, she would ask me during the Hot Topics meeting, 'Well, what do you think, Sunny?' And I was like, 'Barbara Walters is asking me what I think, wow.'"
As for Haines and Griffin, they admired Walters' career with kind comments about the trailblazer. See what other kind words were shared in memory of Walters, below. And let us know what you think of The View's tribute to its creator.
.@JoyVBehar on Barbara Walters: "She very much defied sexism and she defied ageism. She went right into the jaws of the lion."

"She was the original role model for everybody else." https://t.co/cVclFZQmjA pic.twitter.com/T9wl5ityl9

— The View (@TheView) January 3, 2023
.@MeredithVieira reflects on her time with Barbara Walters and shares why she calls her job offer to moderate 'The View' a gift.

"I was lucky to be selected and [#TheView] opened the door to so many opportunities for me." https://t.co/cVclFZQmjA pic.twitter.com/CTJDnNBk9u

— The View (@TheView) January 3, 2023
#WhoopiGoldberg reflects on meeting Barbara Walters for the first time and shares how they both bonded over motherhood while balancing demanding careers.

"It was really an audition for 20 years later to come hang out [on #TheView]." https://t.co/cVclFZQmjA pic.twitter.com/No0WAD1ZmD

— The View (@TheView) January 3, 2023
The View, Weekdays, ABC, Check your local listings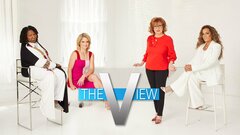 Powered by