Jeremy Renner Remains in Critical Condition After Surgery
Mayor of Kingstown star Jeremy Renner has undergone surgery following a snow plow accident on Sunday, January 1, which left him hospitalized in critical condition.
According to Deadline, the Oscar-nominated actor is now in recovery following surgery and has returned to the intensive care unit, where he is listed in critical but stable condition. The publication also revealed that Renner's family is grateful for the outpouring of support and well wishes from fans around the world.
"We can confirm that Jeremy has suffered blunt chest trauma and orthopedic injuries and has undergone surgery today, January 2nd 2023," the actor's representatives told Deadline. "He has returned from surgery and remains in the intensive care unit in critical but stable condition."
The statement continued, "Jeremy's family would like to express their gratitude to the incredible doctors and nurses looking after him, Truckee Meadows Fire and Rescue, Washoe County Sheriff, Reno City Mayor Hillary Schieve and the Carano and Murdock families. They are also tremendously overwhelmed and appreciative of the outpouring of love and support from his fans."
Renner was air-lifted to the hospital on Sunday morning after an accident while plowing snow at his home near Mt. Rose Highway in Nevada. Deputies from the Washoe County Sheriff's Office were called to the residence at 9 am on New Year's Day and worked with Truckee Meadows Fire Protection District and REMSA Health to help transport Renner to a local area hospital.
A two-time Oscar nominee, Renner is best known for playing Clint Barton/Hawkeye in the Marvel franchise, including the self-titled Disney+ series. He currently portrays Mike McLusky in the Paramount+ crime thriller Mayor of Kingstown, which is set to return for a second season on Sunday, January 15, 2023.
Mayor of Kingstown, Season 2, Premieres, Sunday, January 15, 2023, Paramount+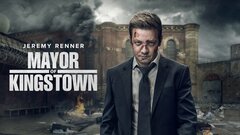 Powered by