Seeking Missing Persons! New Crime Dramas 'Alert' & 'Found' Track Victims Who Vanish
Searching for a taut new crime drama to pick up this winter? Look no further than these two new broadcast offerings starring familiar faces from Hawaii Five-0, Heroes, and Shameless.
The Team
Divorced cops Jason Grant (Scott Caan) and Nikki Batista (Dania Ramirez) are colleagues in the Philadelphia P.D.'s Missing Persons Unit. Navigating "twists and turns" in abduction and runaway cases, Caan says, the two are held close by a tragic past as parents of a kidnapped child.
The Missing
The wandering, the abducted, the kidnapped — the show's storylines include rich, ripped-from-the-headlines drama. Some victims, executive producer John Eisendrath says, "are taken and are desperate to be found," while others "are running away and are desperate not to be found."
The Backstory
Opening six years in the past — when Jason and Nikki were happily married and their young son, Keith, disappeared — the series shares the couple's ongoing story. After the child reappears, Caan says, "The struggle is to figure out what really happened. Who is this boy? Is he our son?"
Alert: Missing Persons Unit, Series Premiere, Sunday, January 8, Following the NFL on Fox
The Team
Public-relations pro, Gabi Mosley (Shanola Hampton), aided by four Washington, D.C.–based crackerjack crisis managers, searches for underserved communities' forgotten souls — people whose stories might not trigger thorough law-enforcement investigations.
The Missing
More than 600,000 people are reported missing each year in the U.S.; at least half have stories unlikely to make a newspaper's front page. This show explores tales from lesser-seen demographics: "people of color, [people] who are gay, homeless, transgender or elderly," Hampton says.
The Backstory
Gabi's drive to save the missing comes from her own kidnapping as a teen of a "forgotten" demographic. "Flashbacks are huge!" says Hampton. "You will see how Gabi was abducted, how she saved herself, and other key moments that help you understand her."
Found, Series Premiere, Sunday, February 19, 10/9c, NBC
This is an excerpt from TV Guide Magazine's 2023 Preview issue. For more inside scoop on what's coming to TV and streaming in the new year, pick up the issue, on newsstands now.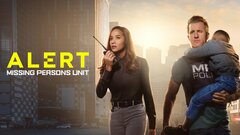 Powered by