Lisa Edelstein Reveals What's Next for 'Girlfriends' Guide to Divorce'
So much for Abby McCarthy (Lisa Edelstein) finally getting the hang of unmarried life. As the third season of Bravo's scripted Girlfriends' Guide to Divorce kicks off, the L.A.-based self-help writer finds herself back to Square One: struggling personally and professionally in the wake of some seriously disastrous decision-making. (Remember how she got busted for carrying on a secret affair with her ex-husband—oh, and hiring a male prostitute—while she was supposed to be the poster gal for empowered singlehood? Well, her editors sure do.) Edelstein reveals what's next for this piece-of-work in progress.
This isn't the first time we've witnessed Abby climbing out of the rubble. It's true—it is a little Groundhog Day! She thought she was on the path to recovery. She blew it, and now she has to start again, which is very hard and frustrating to do in midlife. The nice thing about Abby is that she doesn't give up. She's like a Weeble—she'll wobble, but she won't fall down!
Will her new love interest, Mike (James Lesure)—who also happens to be her son's baseball coach—help her get her groove back? At first, they dislike each other. Mike calls Abby on her BS when she's flitting about. We were looking for a relationship that has real weight to it. She needs the pole to her tetherball!
RELATED: Why Bravo Renewed Girlfriends' Guide to Divorce For Three Years
You're shooting Seasons 3, 4 and 5 consecutively, and then that's a wrap. What's it like seeing the end in sight? Bittersweet, of course. But the writers know what story they're telling—there's no stretching it out—and nobody has to worry about what's going to happen next. We can come to work and put our energy into doing our jobs. There's an ease and maturity; I feel like we've really jelled. One weekend, Beau Garrett [who plays free spirit Phoebe] organized a hilarious workout class for the cast and crew. We all got together and did butt exercises!
Girlfriends' Guide to Divorce, Wednesday, Jan. 18, 10/9c, Bravo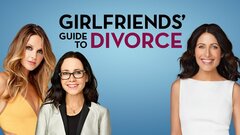 Powered by