Updated: World Series 2022 TV Schedule: Astros vs. Phillies
The 2022 MLB postseason has come down to the 118th World Series, with the American League champion Houston Astros facing the National League champion Philadelphia Phillies.
Game 1 of the seven-game series takes place Friday, October 28, at Houston's Minute Maid Park.
The Astros are returning to the World Series for the fourth time in six seasons, capturing the AL's No. 1 seed and sweeping both the Seattle Mariners in the Division Series and the New York Yankees and the AL Championship Series. The Astros lost to the Atlanta Braves in six games in the 2021 World Series.
The Phillies entered the playoffs as a wild card and the No. 6 seed, but managed to take down the St. Louis Cardinals, the Braves and the San Diego Padres, only dropping two games over those three series. Right-hander Aaron Nola takes the mound for the Phillies in Game 1.
Fox has exclusive coverage of the series, which would last through Saturday, November 5, if it goes to a full seven games. It's the latest possible calendar date for a World Series in history.
[Update: World Series Game 3 scheduled for Monday, Oct. 31, was postponed due to rain. The updated schedule is below.]
World Series 2022 TV Schedule: Houston Astros vs. Philadelphia Phillies
All times Eastern/Central. Schedule subject to change.
Game 1: Friday, October 28: Philadelphia 6, Houston 5
Game 2: Saturday, October 29: Houston 5, Philadelphia 2
Game 3: Tuesday, November 1: Houston at Philadelphia, 8/7c, Fox
Game 4: Wednesday, November 2: Houston at Philadelphia, 8/7c, Fox
Game 5*: Thursday, November 3: Houston at Philadelphia, 8/7c, Fox
Game 6*: Saturday, November 5: Philadelphia at Houston, 8/7c, Fox
Game 7*: Sunday, November 6: Philadelphia at Houston, 8/7c, Fox
*If necessary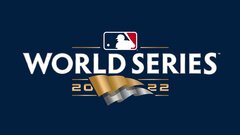 Powered by