'Married at First Sight': 5 Key Moments From 'Are You My Person?' (RECAP)
Are You My Person?
Season 15 • Episode 15
[Warning: The below contains MAJOR spoilers for Married at First Sight Season 15, Episode 15, "Are You My Person?"]
The couples of Married at First Sight Season 15 are more than halfway through their experience with the social experiment, and in the latest episode, "Are You My Person?" some of them are beginning to have doubts about the future.
Whether it's actions occurring behind the scenes or fights they can't seem to break free of, issues are front and center for the four remaining pairs. Below, we're breaking down all of the key reveals, so beware of spoilers ahead.
Retreating From the Retreat
Picking up where the last episode concluded, Miguel and Lindy each vent to their fellow participants after a game of dodgeball, airing concerns about one another and hope for their marriage moving forward. Essentially, in their separate conversations, they both agree that a compromise needs to be made, but who will be the one to bend? As the pairs pack up and leave their couples' retreat, Krysten admits to Mitch that she feels bad about the discord between Lindy and Miguel, and talks about being more confident about her own relationship after the weekend together.
When they get home, Mitch says his favorite part of the retreat was Krysten, and talks plans for an upcoming work conference that will take him away for a few days from production. While Krysten is a little worried about him being away so early in their marriage, he thinks it will be good for encouraging longing inspired by absence.
Miguel & Lindy's Rollercoaster
Lindy and Miguel continue their rough patch throughout the episode, which seems to get better upon arriving home as they cuddle on the couch. She tells him that their problems aren't unsolvable, and he's happy to hear it, but his mood isn't reassuring to Lindy. In a show of support for trying to reconnect, Lindy goes to the gym with Miguel to work out, and although she's not the biggest fan, she does serve as a cheerleader throughout his reps. When they arrive home, he unveils a surprise for her, handing her an envelope that has a new medical insurance card.
Lindy is thrilled, but Miguel wants to know how else he can reassure Lindy of his commitment, she admits she wishes she felt more secure and blames his moods for keeping her on the fence. This sends their upswing in a downward spiral which is even more evident when they have friends over to play Dungeons and Dragons. Although the game is fun to an extent, the real drama takes place when they have separate conversations with their friends. Venting, Lindy is told by her pal that she can't hold her feelings back from Miguel and she needs to put herself out there, even if Lindy doesn't think he wants to see that side of her. When they finally do reconvene after their guests have left, Miguel gets upset and feels like Lindy was talking down on him, and that he would rather she spoke directly to him. The episode concludes with the pair hitting an impasse. Can they overcome the obstacles in their path? Only time will tell.
Mitch & Krysten Rise With the Tides
While Mitch goes for a work conference, that doesn't stop the pair from connecting through video chat and getting excited about an impending surf weekend together. When Mitch does arrive home and they're driving to he beach, he tells her about his conference, claiming there was a lot of women there. Asking about his ring, Mitch pulls the piece of jewelry out of the glove box to place it back on his hand, claiming that he didn't want to be forced into a conversation about the wedding by wearing it. While Krysten seems to trust her husband, it does bother her a bit that he's unbothered by removing the ring. When they hit the beach, Krysten's bad feelings dissipate as she watches Mitch surf with their dog Luna and discusses the progress they've made in their relationship.
Nate & Stacia's Future on a Faulty Frame
As for Stacia and Nate, she brings him to her house that they plan to move into following Decision Day, and she makes it clear what her expectations are about cleanliness. When Nate asks about how she feels about kids being messy, Stacia claims she'd teach them to not be, but they can't seem to agree. Still, Nate is excited about the prospect of moving in, he just hopes Stacia is able to see it as their home instead of just hers. His concerns are proven when they make a trip to a hardware store and talk about bidets and cabinet handles and knobs, clearly having different ideas and tastes. Stacia let it slip a few times that she wants to like what's in her house and not "theirs."
Nate doesn't let it get him too down though as he tries to make a fun date for them during a hike, by making tipsy guac. As they chat, the topic of kids comes up again and Stacia mentions wanting to be fun parents who travel. Nate doesn't agree and thinks that travel won't be fun or possible with a child until they're three or older. Stacia disagrees and the fight continues upon their return home. His idea of fun parents is irresponsible, and she tries telling him that it wouldn't be that way, asking for him to consider her lifestyle and understand that she's a mature person. Whoever is the immature one here, it's clear this pair isn't ready for a baby in the immediate weeks ahead.
Justin's Sacrifice for Alexis
Much of this episode revolves around Justin's letting go of his pet dog Mya who he boarded earlier in the season after they got into a scuffle with Alexis' dog. Going to pick Mya up, he returns home to meet his friend Chris who has agreed to take the pup himself. Thankfully for Justin, he knows Mya loves Chris, but it doesn't make saying goodbye any easier. Alexis also comes home to support Justin in saying goodbye, and when they're finally left alone, he mentions hoping that Alexis knows the sacrifice he's just made.
Likewise, Alexis wants Justin to know that she doesn't want him holding it against her, even if he did it for her. When they meet up with Nate and Stacia for a workout, Justin tells Nate about his concerns over Alexis not being fully committed. Nate thinks Alexis is immature for not giving Justin a direct answer when he inquires about her status. The pair begin to talk through some of these issues when they meet up with Mitch and Krysten later in the episode with Justin sharing he needs affirmation from her and ninety percent certainty isn't enough for him. Krysten echoes Justin, saying she needs some kind of declaration from Mitch to move forward after Decision Day, but she knows he won't say anything unless he means it.
Will these participants get what they need? Stay tuned to find out as Married at First Sight continues on Lifetime.
Married at First Sight, Season 15, Wednesdays, 8/7c, Lifetime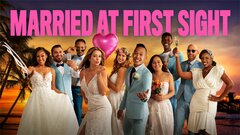 Powered by