'The Voice' Battles: 3 Must-See Performances From Night 1 (VIDEO)
The Battles Premiere
Season 22 • Episode 8
The Voice Season 22 has officially entered its Battle Rounds as team members go head-to-head on stage for a shot at the Knockouts.
As viewers who tuned into the previous episode saw, the Battles began with Team Blake's Tanner Fussell and Austin Montgomery, who sang Johnny Cash's "Folsom Prison Blues." After wowing coaches Gwen Stefani, John Legend, Blake Shelton, and Camila Cabello with their duet, it was up to Blake to select a winner.
In the end, he went with the young Austin Montgomery as Tanner Fussell exited the competition for good. But that was just the beginning as more pairings from each team hit the stage after rehearsals with Battle advisors, including Sean Paul (Team Gwen), Jazmine Sullivan (Team Legend), Jimmie Allen (Team Blake), and Charlie Puth (Team Camila). Below, we're rounding up the stellar performances.
Jillian Jordyn & Rowan Grace sing Lauren Spencer Smith's "Fingers Crossed"
Team Gwen's singers met with their coach and advisor, Sean Paul, to rehearse their performance. Excited to work with Sean Paul, the young hopefuls listened as they were advised to bring an emotional connection to audiences while singing. That was reflected in their performance once they took to the stage, making it a difficult decision for Gwen. Ultimately, she picked Rowan as the winner, and Jillian was sent home.
Dia Malai & Valarie Harding perform Jazmine Sullivan's "Bust Your Windows"
Team Legend's singers are starstruck upon meeting their advisor Jazmine Sullivan and partially intimidated as they practice one of her songs. Helping provide some context, the advisor tells them she broke an ex's car windows, which inspired her to write the tune. Taking that backstory, the performers did their best on working to formulate a cohesive sound. Once it was time for the real performance, it was Valarie who shined slightly brighter, making her the Battle winner. Sadly, Dia was sent home as no coaches used their save or steal on her.
Steven McMorran & Morgan Myles sing Miley Cyrus' "Wrecking Ball"
Both hailing from Nashville, Team Camila's singers have already found some common ground before walking into their rehearsal with advisor Charlie Puth. That helps them bring together a strong version of Miley Cyrus' tune, as they're advised to dig into the emotion of the lyrics while singing. Once Steven and Morgan perform for audiences, Camila believes Morgan has earned a winning mark, but she doesn't hold it against Steven as she uses her save on him to keep him in the competition.
How else will the Battle Rounds unfold? Stay tuned as The Voice continues on NBC.
The Voice, Season 22, Mondays & Tuesdays, 8/7c, NBC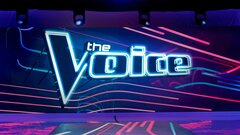 Powered by