'Enola Holmes 2' Trailer: Millie Bobby Brown & Henry Cavill Try to Find Missing Girl (VIDEO)
"The game has found its feet again," Millie Bobby Brown teases in the trailer for her upcoming sequel film on Netflix, Enola Holmes 2. In the footage above, Brown's titular character has officially become a detective, like her brother Sherlock (Henry Cavill) following her first successful case.
But when nobody reaches out to her agency and she's ready to call it quits, she gets hired by "a penniless matchstick girl" to find her missing sister. But the case is harder, and more dangerous, than it seems, as she's thrown into a new world "from London's sinister factories and colorful music halls to the highest echelons of society and 221B Baker Street itself," according to the official synopsis. In the trailer above, Elola says someone's "discovered something powerful people want to hide, and it's deadly."
She is then forced to enlist the help of her friends, her mother (Helena Bonham Carter), and her brother to unravel a mystery, which is revealed to be intertwined with Sherlock's case somehow. Alongside the above, the film also star's David Thewlis, Louis Partridge, Susan Wokoma, Adeel Akhtar, and Sharon Duncan-Brewster.
Enola Holmes 2 is directed by two-time Emmy winner Harry Bradbeer and written by Jack Throne, both of which worked on the original 2020 Netflix film. Both movies are based on a series of novels written by author Nacy Springer, which themselves are based on Sherlock Holmes stories by Sir Arthur Conan Doyle.
Enola Holmes 2, Netflix, Friday, November 4.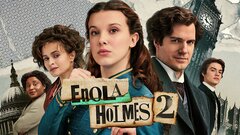 Powered by