'Reginald the Vampire' Cast on What Attracted Them to the Series, Character Dynamics & More (VIDEO)
"He's just different than any other vampire I'd ever seen, and any other hero," says Reginald the Vampire writer Harley Peyton about the titular character of the new Syfy dramedy. "And usually in those stories, he would be the next-door neighbor, the comic relief, the sidekick, but in our story, he's the hero."
Stars Jacob Batalon (Reginald), Em Haine (Sarah Kinney), Savannah Basley (Angela Hibbert), alongside series director Jeremiah Chechik and Peyton, sat down with Emily Aslanian in the TV Insider and TV Guide Magazine New York Comic Con 2022 suite. They revealed what attracted them to the series, adapted from the Fat Vampire books by Johnny B. Truant, how each character feels toward Reginald and their dynamics with him in the show.
"We don't fall in love with the romanticism of vampires, we sort of poke fun at it," Batalon said in the video above. "So that's a great thing. And Reginald is a really relatable guy, and his story is very human. And I think that's a really great journey to watch." Despite being such a great guy, he's made a lot of enemies in the vampire mode simply for existing.
"Angela has a lot against [Reginald], but it's nothing personal," Basley says of her character. "In a way, it's much worse than that. Reginald is kind of this pain in her side. Angela is someone who's been around for 400 years, so she has this power that she's developed and this status, and she really gets thrown off when Reginald comes into town and when that power is kind of challenged."
However, that sentiment is flipped when it comes to Sarah, who serves as Reginald's love interest in the show. "For Sarah, she's coming from a dark past and is new in town, new to the Slushy Shack, new to this whole world of being independent, and then maybe her first love. Then throw in vampire stuff on top of that," Haine says.
Watch the full interview above with the cast, writer, and director to find out about what they love about the show and working together.
Reginald the Vampire, Wednesday, October 5, 10/9c, Syfy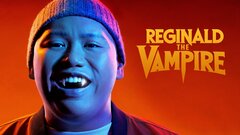 Powered by