Damian Lewis Previews Marital Strife for Axe in 'Billions' Second Season
When the high-stakes players of Billions return for Season 2, U.S. Attorney Chuck Rhoades (Paul Giamatti) is further fixated on taking down hedge fund mogul Bobby "Axe" Axelrod (Damian Lewis). But Axe has his own plans to get rid of the relentless Rhoades, encouraging a class action lawsuit against him.
Lewis gives us a tantalizing taste of the upcoming drama among the titans of capitalism.
Can Axe truly be at the top of his game if he's so obsessed with Rhoades?
Algorithms are the key to this season—you let the numbers do the talking. But if your judgment is clouded by a vengeful streak, then you might be undone.
Rhoades has another problem: A government ethics bulldog named Dake (Christopher Denham) is after him. Why?
Dake believes Rhoades is corrupt. [The investigator] is quite the deal maker, but he could be outplayed.
Chuck and his psychiatrist wife, Wendy (Maggie Siff), are already estranged because he read and used her professional notes about Axe, her former employer. Any bumps in Axe's marriage to Lara (Malin Akerman)?
Both of these men are faithful husbands, but you'll see how corrupting both money and power are. Their marriages will definitely suffer as a result.
Would you be good at Axelrod's job?
I'd be terrible at it, because I'm not quick enough with numbers. But I certainly understand a lot more about the hedge fund world now. [Laughs]
Billions, Returns Sunday, Feb. 19, 10/9c, Showtime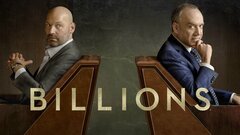 Powered by