Those Merry 'Ghosts' Are Back, 'So Help Me Todd,' Marg Returns to 'CSI,' 'Kat' in Jeopardy, New Arrival in 'Flatch'
Ghosts
Happy haunting, as a second season of the delightful hit comedy begins on a high note, with Sam (Rose McIver) and Jay (Utkarsh Ambudkar) welcoming the first guests to their ghost-infested B&B since the unfortunate floor collapse. "It's like I've died and gone to heaven," says one enthusiastic visitor (familiar sitcom face Don Lake). "If only it were that simple," grumbles long-dead jazz siren Alberta (Danielle Pinnock). Shades of Bewitched when Jay implores Sam to tell the spirits not to invisibly spy on their guests, even when they learn this outwardly happy couple is renowned for spiteful Yelp reviews. And there's discontent among the ghosts when Issac's (Brandon Scott Jones) redcoat crush Nigel (John Hartman) reveals an aversion to one of their fellow spooks, causing the outcast to become so depressed that even the basement dwellers are bummed out: "We like to keep it light down there." Few comedies are lighter and funnier than Ghosts.
So Help Me Todd
Also keeping it light, and played very broadly: a diverting mix of comedy, mystery and legal procedural, starring Oscar winner Marcia Gay Harden and charming Skylar Astin as successful Portland lawyer Margaret Wright and her sheepish prodigal of a shaggy-dog son Todd, an eager investigator who's lost his P.I. license. In the premiere, Todd labors to prove he's still got skills as he tracks down Margaret's missing husband (guest star Mark Moses), while breaking the rules to help his mom on her latest tricky case. It's all rather silly, but when so many shows go dark these days, maybe there's a place for Todd after all.
CSI: Vegas
Gil and Sara may be gone, but another original CSI stalwart hopes to fill the void when Marg Helgenberger joins the reboot, reprising her role as Catherine Willows. She convinces team leader Maxine Roby (Paula Newsome) to bring her aboard just in time for a sordid case involving a dominatrix found murdered near her secret sex dungeon. What happens in Vegas really does sometimes stay in Vegas.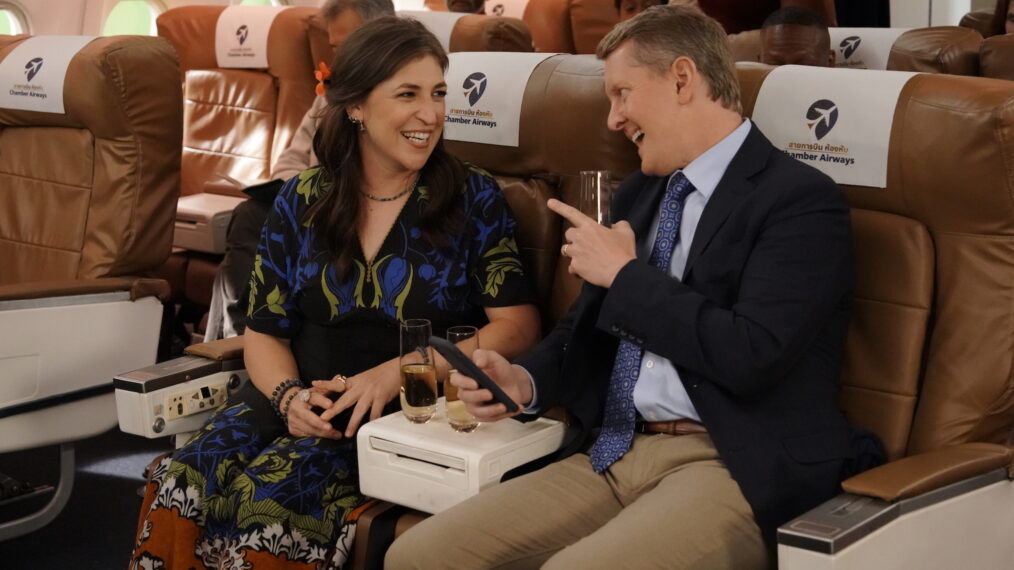 Call Me Kat
"Minor celebrities for $200, Ken!" quips Kat (Mayim Bialik), with a Jeopardy! in-joke kicking off the comedy's third season. The gag: Kat is returning home after a world trip of self-discovery, finding herself upgraded to first class where she's seated next to Bialik's Jeopardy! co-host, Ken Jennings, who'd rather be left alone. A cute stunt, but then the show is back in lame-sitcom steerage when Kat arrives home only to find that Randi (Kyla Pratt) has turned her cozy cat café into a trendy juice bar. Preceded by the surprise Season 2 of quirky mock-doc Welcome to Flatch (9/8c), welcoming My Name Is Earl and Mom alum Jaime Pressly as town namesake Barb Flatch, who imagines her homecoming will wake up the sleepy town.
The Good Fight
As if a bomb knocking Diane (Christine Baranski) and her Dr. Feelgood (John Slattery) out of their chairs wasn't shock enough, this episode brings the rampant mayhem on the streets even closer to home, with a violent twist no one sees coming. It's a pivotal episode for Eli Gold (Alan Cumming) and his relationship with daughter Marissa (Sarah Steele), when she may be forced to testify against him and expose his political dirty tricks. And when Ri'chard (Andre Braugher) invites Liz (Audra McDonald) for dinner at his chaotic home, could this help thaw their frosty work relationship?
Atlanta
A refreshingly grounded episode of the adventurous comedy is all about family, when Earn (Donald Glover) is caught in the middle of generational conflict while accompanying his mom, grandfather and opinionated aunt to church. In a touching subplot, his dad (Isiah Whitlock Jr.) seeks respite and some "me time" at the local mall, which remains blissfully quiet until church lets out.
Inside Thursday TV:
Billboard Latin Music Awards (7 pm/ET, Telemundo, also streaming on Peacock and the Telemundo App): José Feliciano receives the first-ever Billboard Legend Award at the annual ceremony, scheduled to air live from Miami's Watsco Center, with Kate del Castillo (La Reina del Sur) and Jane the Virgin's Jaime Camil as hosts. Christina Aguilera takes home the Billboard Spirit of Hope Award and Nicky Jam gets the Hall of Fame Award.
José Feliciano: Behind This Guitar (streaming on Peacock and Telemundo): Another tribute for the celebrated guitarist-performer in a documentary profile, with Gloria and Emilio Estefan and Carlos Santana among the executive producers.
Young Sheldon (8/7c, CBS): In an eventful Season 6 premiere, George Sr. (Lance Barber) bails cigarette-smuggling son Georgie (Montana Jordan) and Meemaw (Annie Potts) out of jail, while Mary (Zoe Perry) feels more estranged from her church and Sheldon (Iain Armitage) and Missy (Raegan Revord) finally meet the expectant Mandy (Emily Osment).
Hell's Kitchen (8/7c, Fox): The cooking competition tries something new for its 21st season: a generational battle between a 20-something Red Team and a 40-something Blue Team. Can veteran chefs outcook the upstarts?
Bump (8/7 and 8:30/7:30c, The CW): The Australian dramedy ends its first season with back-to-back episodes, culminating in the baby's christening day as Oly (Nathalie Morris) comes to terms with young motherhood. Followed by the season finale of Great Chocolate Showdown (9/8c).
Hocus Pocus (9/8c, ABC): In case you weren't aware that a long-awaited sequel was coming to Disney+ on Friday, ABC presents a curtain-raiser with a prime-time replay of the 1993 cult comedy starring Bette Midler, Sarah Jessica Parker and Kathy Najimy as the mischievous Sanderson witches.
Ghost Adventures: Devil's Den (9/8c, Travel Channel, streaming on discovery+): If CBS's fake Ghosts aren't enough for you, the Ghost Adventures team returns for a two-hour special, embarking to California's abandoned Los Padrinos Juvenile Detention Center, where creepy things await.
Star Trek: Lower Decks (streaming on Paramount+): Iconic sci-fi crossover alert, when the animated Cerritos crew spends a day on Deep Space Nine.