'Emerald City' brings Sex, Torture and Death to The Land of Oz
This is really not for the little ones. Emerald City, NBC's audacious, budget-busting series based on L. Frank Baum's The Wonderful Wizard of Oz and its many sequels, is packed with sex, social turmoil and pretty much every form of torture and death imaginable—from waterboarding and crucifixion to group suicide. Oh, and Dorothy's got a gun. But this is not as radical a reboot as it sounds.
"Baum wrote his Oz stories not as sweet tales for children but as sharp political allegories," notes executive producer Shaun Cassidy. "He used the Yellow Brick Road and Emerald City as metaphors for the gold standard and the greenback. The Scarecrow and Tin Man represented the farmers and industrial workers Baum believed were getting royally screwed by the system."
RELATED: Joely Richardson to Join the Cast of NBC's Emerald City
And Dorothy Gale, played here by Adria Arjona (True Detective) as an adult nurse from Kansas, was an homage to the plucky spirit of America's heartland. "Being all grown up—not to mention being a Puerto Rican immigrant—I never dreamed I'd get a chance to play Dorothy," Arjona says with a laugh. "I mean, like, what are the chances? But I certainly grew up identifying with her and her search for home."
Dorothy still arrives in Oz by twister but now she does it in a cop car. She immediately plows down the Witch of the East (Florence Kasumba) and soon after meets the show's Scarecrow figure, Lucas (Oliver Jackson-Cohen), a hunky swordsman with amnesia (if he only had a brain, get it?) who was left to die on a cross. Before long, Dorothy is embroiled in an apocalyptic battle between the Wizard (Vincent D'Onofrio) and two sister witches: Glinda (Joely Richardson), a shimmering lady of light who rules what seems to be a nunnery (spoiler alert: it ain't!), and her dark, bisexual, loose cannon sister West (Ana Ularu), who operates a raucous whorehouse.
Directed by acclaimed indie filmmaker Tarsem Singh (The Fall), the series was shot across Europe, using ancient Roman roads in Spain, lush forests in Croatia and 15th-century castles in Hungary. And the faces couldn't be more diverse. "We cast actors from all over the world—Sweden, Japan, Egypt, Uganda, you name it," says Cassidy. "In fact, the only skin color not represented is green!"
Emerald City, Premieres Friday, Jan. 6, 9/8c, NBC @NBCEmeraldCity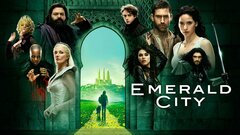 Powered by