Joely Richardson to Join the Cast of NBC's 'Emerald City'
Emerald City­–NBC's other project about the land of Oz–has found its Glinda the Good Witch.
Joely Richardson has joined the cast of Emerald City as Glinda. She joins Vincent D'Onofrio, who signed on last month to play the all-powerful Wizard, while newcomer Adria Ajorna is Dorothy Gale, the 20-year-old who is swept up by a tornado and transported to the mythical Oz.
It's a return to TV for Richardson, whose previous credits include Showtime's The Tudors and FX's Nip/Tuck. Her feature roles include The Girl with the Dragon Tattoo and The Affair of the Necklace.
NBC is coming off strong ratings for its contemporary take on the musical The Wiz, based loosely on L. Frank Baum's tales of Oz. Emerald City is also a retelling of those stories, but with a dark, edgy spin. In this tale, Oz is in peril, as the Wizard bans magic and rules with a heavy hand.
David Schulner, Shaun Cassidy and Matt Arnold serve as executive producers, while Tarsem Singh is directing. NBC and Universal Television (the studio behind the project) are planning 10 episodes of the limited-run series.
Other cast members attached include Ana Ularu (who plays the Wicked Witch), as well as Oliver Jackson-Cohen, Jordan Loughran, Gerran Howell and Mido Hamada.
RELATED: The Wiz Live! Continues the Power Trend of TV Musicals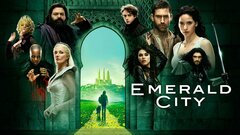 Powered by