'Code Black': What Could Possibly Go Wrong With A City-Wide Power Outage? (VIDEO)
An overcrowded hospital and an overworked staff is a daily reality at Angels Memorial, the hospital at the center of CBS's medical drama Code Black. So how much worse could things get by adding a city-wide blackout to the equation? Based on this week's intense episode, a lot!
While the Angels Memorial staff scurries to take care of the high-risk patients including a pregnant women in labor who is trapped in an elevator with residents Elliot (Noah Gray-Cabey) and Heather (Jillian Murray), Dr. Ethan Willis (Rob Lowe) and psychiatrist Dr. Amanda Nolan (Kathleen Rose Perkins) must transport a fragile 92-year old patient named Blanche (Barbara Bain) to another floor where she'll be in better care.
RELATED: Behind the Scenes of Code Black's 'Most Emotional Episode'
In the following clip, Blanche, who thinks it's 1942, is rambling about the war, which leads Nolan to analyze Willis about his own feelings about his time in the war and how he may miss it more than he realizes.
Code Black, Wednesdays, 10/9c, CBS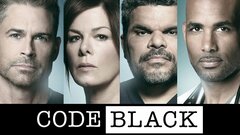 Powered by