'The Hollow Crown: The Wars of the Roses' Henry Defends His Crown (VIDEO)
PBS's epic miniseries The Hollow Crown kicked off its return with the new subtitle The War of the Roses on December 11. The premiere episode, "Henry VI Part 1," delivered all the chaos, murder and secrecy from the William Shakespeare plays it's based on.
In "Part 1," England finds itself dealing with a major crisis after the death of the King. Young Henry VI (Tom Sturridge) only makes matters worse, with the best of intentions, when he marries Margaret of Anjou (Sophie Okonedo) forcing a truce between England and France.
RELATED: Anne of Green Gables: New PBS Production Retains Optimistic Point of View
"Henry VI Part 2," which premieres on December 18 (the conclusion to the three-part series airs on Christmas night) picks up with the full-blown War of the Roses. Henry finds himself verbally defending his title and his actions to a full house after finding the Duke of York (Adrian Dunbar) attempting to seize his throne while Richard III (Benedict Cumberbatch) and Warwick (Stanley Townsend) denounce Henry's claim. That doesn't make the young King very happy.
Check out the exclusive clip below to see Henry defend his honor.
The Hollow Crown: The Wars of the Roses, "Henry VI, Part 2," Sunday, Dec. 18, 9/8c, PBS (check local listings at pbs.org)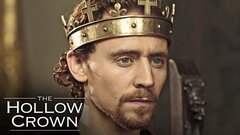 Powered by