'Shooter': Will Bob Lee Get Help From WWE Superstar Randy Orton? (VIDEO)
Can the WWE help Bob Lee Swagger clear his name?
That's not exactly what happens in this week's episode of the USA drama Shooter, but what you will see is wrestling superstar Randy Orton guest starring and possibly helping the on-the-run Swagger (Ryan Philippe).
The series, based on the 2007 film of the same name starring Mark Wahlberg (who also serves as an executive producer on the project), follows Swagger, the retired Force Recon Marine and expert sniper, who is set up as the guilty party in a political assassination. We know Swagger didn't do it, but some bad FBI agents (led by Omar Epps) are working hard to make sure he takes the fall.
RELATED: Ryan Phillippe Talks to TV Guide Magazine on Facebook Live!
Swagger—acting on a tip from one of the good FBI agents, Nadine Memphis (Cynthia Addai-Robinson)—tracks down James Richards (Orton) and his group, the Tree of Liberty, who may know something about the bullet that was used in the assassination. However, while it initially seems like a good thing for Swagger to work with the group to clear his name, he may find that he's only gotten himself into another tough situation.
Check out this clip where Swagger and Richards meet each other for the first time:
Shooter, Tuesdays, 9/8c, USA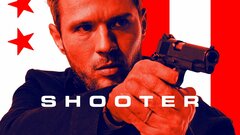 Shooter
where to stream
Powered by