Watch! 'Shooter' Star Ryan Phillippe on Facebook Live (VIDEO)
The Los Angeles offices of TV Guide Magazine got much buzzier last week when Ryan Phillippe stopped by to talk about his new series Shooter during a Facebook Live interview with West Coast Bureau Chief Jim Halterman. The action drama premieres Tuesday on USA Network and is based on Stephen Hunter's novel, Point of Impact, which inspired the 2007 feature film starring Mark Wahlberg, who serves as an executive producer on the series.
Created by John Hlavin, the Shooter series follows war veteran Bob Lee Swagger who, in Phillippe's words during the interview, is "a veteran, a family man, a guy who's begun to live a peaceful life with his wife and daughter and removed himself from his past and he's drawn back in by way of this conspiracy and then has to fight and has to reenter a new battle for his own freedom and his own life and his family's safety."
RELATED: Ryan Phillippe is Fired Up to Play a Former Marine Sniper
Knowing there may be some comparison to the book and film, the actor added, "there's a frame work that we follow that's similar to the book and the movie but there's tons of surprises and a lot of differences." The series also stars Omar Epps, Shantel VanSanten, Cynthia Addai-Robinson, Eddie McClintock and Tom Sizemore.
Check out the entire interview, where Phillippe also discusses doing his own stunts in the series, his own connection to war vets and his trailblazing role on the soap opera One Life to Live:
Shooter, Series premiere, Tuesday, November 15, 10/9c, USA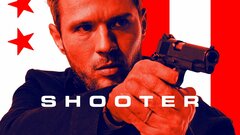 Shooter
where to stream
Powered by