'Chance' Finale: Who Killed Blackstone? (VIDEO)
The stakes have never been higher for San Francisco-based forensic neuropsychiatrist Eldon Chance (Hugh Laurie). Chance, a psychological thriller that focuses on Chance's life after he unwillingly becomes involved in a threatening world of police corruption, wraps up it's first season on Hulu on December 14.
RELATED: Chance: Hugh Laurie's New Series Has a Hitchcockian Vibe
Last week's episode ended on a cliffhanger as a deadly fight between Chance and Raymond Blackstone (Paul Adelstein), a villainous cop and brothel owner, was about to begin. The two have been rivals throughout the season as Jaclyn (Gretchen Mol), a love interest for both men, has intentionally pitted them against each other. Following the fight that led to Blackstone's death, Chance questions whether or not he is responsible.
Here is a first look at a crucial scene from the Chance finale, "Fluid Management."
Will D (Ethan Cuplee) and Carl (Clarke Peters) be able to help Chance figure out what happened the night of Blackstone's death? Now that Blackstone is out of the picture, how will this affect Chance's relationship with Jaclyn?
Chance, Season finale, Wednesday, Dec. 14, Hulu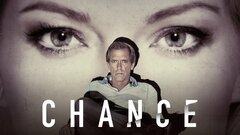 Chance
where to stream
Powered by