'The Boys': Chace Crawford, Claudia Doumit & Jessie T. Usher on Their Bad Deeds (VIDEO)
Now that we've given you some of the, um, heroes (?) from The Boys in our chat with Jack Quaid and Karen Fukuhara, it's only right to offer some equal time to the villains — who in the case of Prime Video's vulgar perfection, are actually the ones on the lunchboxes and heading to the White House.
In part two of our chat with the cast, The Seven's Deep and A-Train — Chace Crawford and Jessie T. Usher — joined Claudia Doumit, who plays secretly V-powered politician Victoria Neuman, to look back on their characters' very bad behavior over the past season. And even they see their alter egos as pretty evil.
"A-Train has a lot of blood on his hands," agrees the immensely charismatic Usher. "And he's so casual about it. He is so casual about all of the things that he has done and the people he's killed… It doesn't affect him." Noting that viewers were lulled into sympathizing with the speedy superhero once his heart condition deteriorated and Homelander (Antony Starr) began treating him like a liability, the actor says that "this season has been a nice reminder" of his crimes. Which, if you've seen "Herogasm," now include the murder of a fellow Supe.
Not that homicide is really frowned upon by this crew. What is beyond the pale, however, is playing dirty to advance one's own agenda, and that is where Doumit's head-exploding congresswoman is set to find herself. "When we finished [filming] this season, I was very nervous for Neuman," reveals our new favorite enigma ahead of an upcoming twist that sees her make a deal she hints "will deeply cost her." Should she survive the carnage of Soldier Boy-vs-Homelander, that is.
For Crawford, Season 3 has been one of reckoning for The Deep. Following his exile from the team for sexually assaulting Starlight (Erin Moriarty), a stint in a very familiar celebrity cult (which inspired one of the greatest Lifetime Movie-gags ever) and a deftly nuanced serio-comic turn by Crawford, the aquatic oddball was brought back into the fold and forced to own up to his sins.
And while that means the Gossip Girl icon finally got to be a bigger part of the main storyline — "It was great, from an actor's perspective, to do some of that stuff," he admits, "but man, I missed these guys" — it also means The Deep could wind up in over his head in order to solidify his new spot. Still, despite a looming assignment sure to ruffle his gills, Crawford says "it's great to be back!"
No word on whether his octopus paramour agrees.
The Boys, Fridays, Prime Video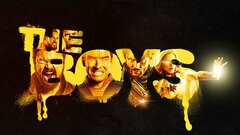 Powered by