'Hairspray Live' Review: The Beat Goes On, Jubilantly
Honestly, who would want to stop that beat?
From the peppy "Good Morning, Baltimore" opener to the jubilant "You Can't Stop That Beat" high-stepping finale, Wednesday's Hairspray Live! was a snappy, happy, candy-colored and newly relevant delight. Of all NBC's productions since The Sound of Music revived the ambitious form of live theatrical entertainment for TV, this musical with a message felt most like an exhilarating night out on Broadway.
With all honor to Jerry Mitchell's fabulous period choreography, evoking an American Bandstand past waking to a funky and racially integrated future, much of the thrill of this splashy new incarnation came from its powerhouse cast. What a gift to witness Harvey Fierstein (also the book writer) leading the troops, sensationally reprising his Tony-winning role as blowsy but unbowed Edna Turnblad, she of the hilariously guttural, gravelly croak. Just hearing Edna growl "Hold Mommy's waffles" with his rubber sour-pickle face was priceless. His/her "Timeless to Me" love duet with wacky husband Wilbur (a jolly Martin Short) was nothing short of sublime.
RELATED: On the Set for Hairspray Live! Rehearsals
The show's discovery, Maddie Baillio, gave it her all as a charmingly perky Tracy, growing in confidence—and wonderfully brazen dance moves—as the night went on. But it was easy to forget she was the supposed star of this show, when surrounded by blazing talents like Jennifer Hudson, who blew the roof off the soundstage (going full Audra McDonald) in her big gospel-like "I Know Where I've Been" civil-rights anthem, and slinky Kristin Chenoweth stealing every one of her scenes as the bouffanted comic-villain bigot, Velma Von Tussel.
There was also much more musical-comedy chemistry within the "checkerboard" couple of Ariana Grande's daffy Penny and Hamilton veteran Ephraim Sykes as soulful Seaweed than between Tracy and the pretty-boy matinee-idol Link of bland Garrett Clayton (truly the show's weakest link). And who knew Dancing With the Stars' Derek Hough, as TV host Corny Collins, had silky pipes to match his fancy footwork?
Though not averse to the usual technical glitches with light and sound, and some surprisingly shaky and awkward camera work—including an unforgivable cutaway from Chenoweth's final bow—Hairspray thrillingly pulled off show-stopper after show-stopper. The night culminated in a Grande-Hudson duet and curtain call that recalled the best of classic music-variety TV shows—a relic of the 1960s I wish power-producers Craig Zadan and Neil Meron could revive with the zeal they bring to these musicals.
The show's timely theme of integration found an ironic, and occasionally successful, counterpart in retro commercials woven into the fabric of the play. Best was a Reddi Whip milkman cavorting in a production number, worst was Hough forced to pitch Oreos directly after coming off stage. This Hairspray was also clearly influenced, for the better, by Fox's Grease Live! earlier this year, staging several numbers on the Universal backlot and including a studio audience (on the Corny Collins Show set) and enthusiastic spectators outside the soundstage. But it also copied the worst of the gimmicks, hiring Glee's Darren Criss to channel Mario Lopez, intruding on every break in the action as an aggravating behind-the-scenes fanboy, introducing remote segments that threatened to drain the night of much of its magic.
Thankfully, Hairspray holds up (pardon the aerosol pun) so well that no regrettable decisions or wonky camera angles could dim the adrenaline rush of joy felt throughout. And I really appreciated the callbacks to past productions: Did you recognize former Tracys, Ricki Lake (movie) and Marissa Jaret Winokur (Broadway), in the "Welcome to the '60s" number? And how about that Divine Pet Food storefront with its neon pink flamingo, an homage to the original movie Edna? Something tells me that the next time I need a Hairspray fix, which might be tomorrow, I'm more likely to replay this than the 2007 movie. You just can't beat that Harvey.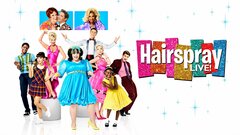 Powered by