Roush Review: 'Mozart in the Jungle' Makes Beautiful Music
Is it weird to want to give a TV show a standing ovation? There are moments, especially in the euphoric first half of Mozart of the Jungle's delightful third season on Amazon, when the feverish passions reach such a peak that making music and making love seem inseparable and equally volatile. Bravo!
After inexplicably being buried its first two years by Amazon launching its seasons right before Christmas and New Year's, Mozart finally gets a more appropriate spotlight in early December. Consider it an early and sumptuous Christmas gift. Set primarily in Venice, one of the world's most magically exotic cities, the first five (of 10) episodes follow the tempestuous collaboration between conductor Maestro Rodrigo (Gael Garcia Bernal) and opera diva Alessandra, the legendary "La Fiamma" (Spectre's Monica Bellucci). His orchestra in New York has been silenced by a labor dispute and lockout, and her voice has long been stilled by neurotic insecurities.
RELATED: Mozart in the Jungle: Venice, Romance, and Rikers Island Highlight a Joyous Season 3
They need each other and feed off each other's symphonic egos, a combustible collaboration that's a joy to behold. Garcia Bernal, a Golden Globe winner for this role, has never been more charming in his unbridled and childlike enthusiasm as Rodrigo woos Alessandra back to the spotlight, spellbound by her ethereal gifts. Bellucci is simply ravishing as the fiery but emotionally fragile superstar, labeled "the Stevie Nicks of opera" by Rodrigo's protégée, Hailey (the winsome Lola Kirke).
"Why am I surrounded by these dramatic people all the time?" Rodrigo laments after one tantrum precipitates a gondola pursuit. Need he ask? This is why we watch. (Even Dermot Mulroney, so dour and dull on CBS's defunct Pure Genius, is a blast in his recurring role as a belligerent cellist.)
The season can't help but deflate a bit when Rodrigo decamps in the back half of the season to New York, an urban jungle paved with the bureaucratic red tape he so despises. And yet there are myriad pleasures to be had in the grace notes, as Hailey puts down the oboe to try her hand at conducting, and the orchestra board's embattled chairwoman, Gloria (ever-luminous Bernadette Peters), finds romance with Rodrigo's mercurial predecessor, Thomas (Malcolm McDowell), who enjoys unexpected new celebrity in the realm of electronic music. It's also undeniably thrilling when classical masters, old and young, appear in surprise and satisfying cameos.
In the most powerful episode, the orchestra plays for the first time in front of a truly captive and somewhat skeptical audience that is ultimately won over. It's a reminder that even if you're not into classical music, you might just find yourself singing Mozart's praises.
Mozart in the Jungle, Season 3 premiere, Friday, Dec. 9, Amazon Prime Video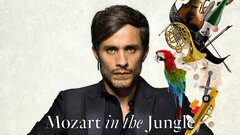 Powered by