'Mozart in the Jungle': Venice, Romance, and Rikers Island Highlight a Joyous Season 3
There aren't many series on TV these days that can be described as "joyous," but Mozart in the Jungle is one of them. The Amazon dramedy, whose third season debuts on the streaming service on Dec. 9, has reveled in its subject, the rivalries, romances and music, of the fictional New York Symphony. But at the end of Season 2, the orchestra was locked out from performing due to a labor dispute with the Symphony's parent organization. How do you embrace the joy of classical music when no one is playing?
The solution: hit the road. The season starts in Venice, with the orchestra's maestro, Rodrigo De Souza (Gael Garcia Bernal) riding his signature bicycle on a pontoon raft on one of the city's many canals. Even though he pledged he'd stay with the orchestra during the lockout, he's been called to Italy by operatic superstar Alessandra, aka La Fiamma (Monica Bellucci), who wants him to conduct her comeback concert. The only problem is, the diva doesn't think her voice is up to the task.
"We really liked the idea, thematically, of a father leaving his family," says executive producer Paul Weitz. "Because at the end of the last season, it seems like he's going to be with them forever. He says, 'This is my home,'so we liked the idea of disorienting ourselves and everyone." About the first image viewers see in Season 3, Weitz didn't mince words. "We liked the idea of a guy who can walk on water, because he can. He is the superstar conductor of this orchestra, and everyone else is stuck."
RELATED: Golden Globes TV Winners: Mr. Robot and Mozart Make Their Mark Amid Other Surprises
According to Bernal, the possibility of doing an opera-related arc was discussed during Season 2, but he couldn't imagine the directions the show's creators would take it. "It was all a constant process and constant talk. When they told me where it was and who it was with I was just completely turned into a sock upside down," he says with the same happy lilt in his voice that he lends to Rodrigo. "'Whoa, this is gonna be amazing!' It's all about getting us there and lets see what happens. It will only lead to very good things."
"Mozart in the Jungle is very famous in Europe so to have the chance to work with Gael who I respect so much as an actor, and then I got a chance to get to know him better working together," Bellucci says. She doesn't do much television, so there was some trepidation, but the chance "to play this character who's a diva and at the same time childish, full of passion, known for her voice," was too good for her to pass up. "This woman walked off the stage and then she doesn't want to come back and we discover why. Because she's scared of getting old. Her voice is getting old. And then this young man full of energy comes into her life and proves to her that she can go back and be even better. It's beautiful."
The comeback concert consists of floating rafts holding Bernal, Bellucci, Wallace Shawn (paying Winslow, a brilliant but neurotic pianist) and Placido Domingo, and a modern aria where Belluci plays, of all people, Amy Fisher. "There was also a moment when Paul was shooting the raft portion of the [episode], literally for like five seconds, the raft just stopped working and started drifting. You sort of had this flash of the raft just drifting out to sea, and what would've happened," says executive producer Will Graham.
One of the people who is stuck during the lockout is Hailey Rutledge (Lola Kirke), who finds herself in Venice playing oboe in the ensemble of obnoxious cellist Andrew Walsh (Dermot Mulroney), and crosses paths with her mentor/sometimes flirting partner Rodrigo at a low moment. He brings her into his circle with Alessandra and encourages her to conduct. "At the end of Season 2 we see Hailey making decisions that reflected a growing independence, a growing ambition, and stepping away from a shyness and insecurity that she's had in her life," says Kirke. "I was told that I was going to be conducting [in Season 3]. I think that that is also a reflection of a different kind of position as an artist."
Kirke trained with conductors in Italy and New York, and while the physicality of pretending to conduct is "certainly less unflattering than playing the oboe, just the fact that she's a woman made things a little awkward for her. "I've heard female conductors talk about this; that kind of physicality is difficult. It's a very masculine thing to do in a lot of ways. It's a very rigid thing and I think that women are less rigid."
Meanwhile, back in New York, the members of the orchestra, including cellist Cynthia Taylor (Saffron Burrows), elbow-throwing oboist Betty Cragdale (Debra Monk) and rules-bound piccolo player Union Bob (Mark Blum) are scrambling to make ends meet, and symphony president Gloria Windsor (Bernadette Peters) is struggling to keep everything together and get her maestro back from Italy. But there's a surprise in Gloria's life: a blooming romance with Rodrigo's predecessor, Thomas Pembridge (Malcolm McDowell), who is agonizing over finishing his years-in-the-making composition.
"We work together very well, and we're very fond of each other, so that helps," says McDowell of Peters. "And it's a nice way, I think, for it to go, story-wise. Better than having the young little twitty girls around, [Thomas] has to be in a more mature relationship here."
According to McDowell, Amazon had suggested that there be a relationship written into Season 3, "and Paul came up with the love story of Bernadette and my character, which they did not expect. And I think that's really cool. It's really cool."
In once scene between the two, Peters gets to sing a Cole Porter song in an intimate moment. What do those moments mean to the Broadway legend? "Gloria's not really about being a singer, but it's always great to find a place that makes sense for her to sing," she says. She is a creative person, but she also is a suit, so that's what she's trying to balance. She knows [Rodtigo]'s going to bring them home, because Rodrigo is pure of heart and knows his creativity is pure, and his music. She also has to please the public. She has to put people in the seats. So she also has to pick pieces of music that they're going to come see. So it's a balancing act, which makes her crazy, but she loves him and the arts so much."
In the second half of the season, the action switches back to New York, including an entire episode shot at Rikers Island, with real inmates in the audience and in interviews (the episode plays like a documentary made by Jason Schwartzman's character, Bradford Sharp). "Those were real guys and they were very moved and very genuinely affected by what they experienced," says executive producer Roman Coppola, who directed the episode "They say it [in the episode], they hadn't seen this kind of music before and didn't know what to expect. To me, it proved the point, which doesn't really need to be proven, but music transcends borders and language and social strata. What we presented for them was a pretty esoteric program of music and they got it, they responded to it just as pure music, like there wasn't a lot of context."
RELATED: The Bay Season 2 Ready to Drop on Amazon Prime (VIDEO)
Also new this season: Bernal directs an episode. "Oh my God. He's so creative," says Peters. "He goes, 'It's very hard, because you know, I have to watch and act at the same time. And sometimes I'm watching, and I just want to join in.'"
"It was like being with your family and saying 'OK, Friday I'm gonna be cooking, so I need you all to help me. Can you get the mushrooms, can you get the thing…'" says Bernal. "It's a certain type of feeling, but at the same time I've got to say that acting and directing, it's like Rodrigo playing a guitar solo in the orchestra sometimes. You're doing [a scene] and wondering, 'has the taxi arrived? Maybe? Who put these glasses here?' You're just thinking about those things all the time. It is something that is complicated because it moves you."
Mozart in the Jungle, Season 3 premiere, Friday, Dec. 9, Amazon Prime Video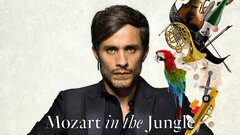 Powered by