'Obi-Wan Kenobi' Star Moses Ingram Addresses Racist Fan Comments
Obi-Wan Kenobi's leading lady Moses Ingram is responding to racist fan comments she's received since the show's debut on Friday, May 27.
The Emmy-nominated actress who plays Third Sister, Reva, in the new limited series took to her Instagram Story to address fans about the reaction she's received, addressing the hateful rhetoric and supportive comments she's seen.
"The thing that bothers me is this feeling inside of myself, that no one has told me, but this feeling that I have to shut up and take it, that I have to grin and bear it. And I'm not built like that," she said. "So, I wanted to come on and say thank you to the people who show up for me in the comments and the places that I'm not going to put myself. And to the rest of y'all, y'all weird."
There are more than 20 million sentient species in the Star Wars galaxy, don't choose to be a racist.

— Star Wars (@starwars) May 31, 2022
Ingram explained that she's received several racist messages and comments, but acknowledged the love and support she's also witnessed. Some of that support came in the form of social media posts from the official Star Wars profile as well as talent from the Star Trek franchise.
"We are proud to welcome Moses Ingram to the Star Wars family and excited for Reva's story to unfold. If anyone intends to make her feel in any way unwelcome, we have only one thing to say: we resist," the message from the Star Wars profile began. "There are more than 20 million sentient species in the Star Wars galaxy, don't choose to be a racist."
View this post on Instagram
Meanwhile, Star Trek: Strange New Worlds star Anson Mount took to Instagram to spread the love for Ingram. "This is Moses Ingram. She is a singular talent and a recent addition to the @starwars universe," his statement began. "She has also been targeted by racists pretending to be fans because her mere existence threatens a skewed, dystopian fantasy that selectively omits the likes of @therealbillydee and others. We, the Trek Family, have her back. ❤️🖖❤️🖖❤️ @_mosesingram @startrek @obiwankenobi."
Prior to Obi-Wan Kenobi, Ingram starred in Netflix's mega-hit limited series The Queen's Gambit and held her own alongside film giants like Denzel Washington and Frances McDormand in The Tragedy of Macbeth. Her most recent film role includes Michael Bay's Ambulance which she features alongside Jake  Gyllenhaal and Yahya Abdul-Mateen II.
Obi-Wan Kenobi, New Episodes, Fridays, Disney+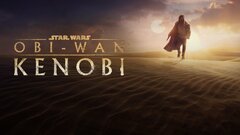 Powered by