Animal Planet's New 'Ocean Warriors' Faces a High Seas Chase for Justice (VIDEO)
To some, the ocean is a place of peace and calm tranquility, but don't expect to see anything calm or tranquil in Animal Planet's latest offering, Ocean Warriors.
The six-part docuseries, led by executive producers Robert Redford and Paul Allen, follows activists, scientists and other Warriors as they police the world's oceans for poachers and others looking to harm Mother Earth. Considering the ocean covers over three fifths of the globe, this is no small feat. The series will stop off in many locations including Tanzania, Thailand and Antarctica bringing to justice illegal shark fishers, poachers, traffickers and more outlawed criminals.
RELATED: Monster Week Prowls Back to Animal Planet (VIDEO)
Check out the exclusive clip below where a group of unlikely heroes called the Sea Shepherds chase a poaching ship called Thunder across Antarctica's icy shore in a high-adrenaline scene from the series premiere.
Ocean Warriors Series premiere, Sunday, Dec. 4, 9/8c, Animal Planet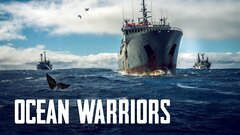 Powered by