'The Bold and the Beautiful' Boss Bradley Bell Previews a Seismic Shakeup at Forrester Creations
We know it's the season of miracles but this is just cuckoo bananas! On December 14, The Bold and the Beautiful's young Steffy Forrester (Jacqueline MacInnes Wood) will accept an offer from her conniving step-grandmother, Quinn (Rena Sofer), to become the new CEO of Forrester Creations—a job that will have these two archenemies working side by side with Quinn as the new Forrester president. What the hell? Executive producer and head writer Bradley Bell explains.
Steffy has long hated Quinn's guts and blames her for ruining her marriage to Quinn's son Wyatt (Darin Brooks). Now she's selling out because of a tempting job offer?
Steffy is very moved by the honor. Her grandfather Eric [John McCook] wants this to happen from the bottom of his heart and sees this as a true passing of the baton. Besides, it's time for a woman to run things. And it's a provocative opportunity. Wyatt has the promotional savvy to make Steffy a household name with millions of online followers. She'll become an "influencer," as they say nowadays. She's going to be our show's Kardashian, and it's because of Wyatt. They are going to do great things together.
But their marriage just broke up and Steffy has already moved on to Wyatt's brother, Liam (Scott Clifton). Is this Quinn's not-so-subtle attempt to reunite Wyatt and Steffy?
Liam certainly sees it that way. He's sure that Quinn's offer is total manipulation, and it's going to create quite a rift between him and Steffy. Is it something they can negotiate and endure? We'll have to see. But Quinn is sincere. She really admires Steffy and cares for her. These are her maternal instincts kicking in. Quinn has been changed forever by Eric's love and trust in her. It's a Taming of the Shrew story. He believed in her when no one else did and she'll never forget it.
So Quinn's totally innocent here?
[Laughs] Well, I didn't say that! Yes, Quinn is determined to get Wyatt and Steffy back together. She also wants Wyatt to emerge as the dominant Spencer son.
RELATED: B&B's John McCook on Eric's Shocker Wedding
Where does this leave Eric's sons, Rick (Jacob Young) and Ridge (Thorsten Kaye), who both wanted to be CEO?
Eric will make Quinn president. Wyatt becomes head of PR. And Rick and Ridge will be co–vice presidents, which of course they're not happy about. A band of new outlaws has taken over Forrester, and they are aligned with the king. [Laughs] And, when you're aligned with the king, anything is possible. Maya is really going to take issue with Quinn and stand up to her. Don't forget, Maya's portrait is still freshly off the wall, replaced by that portrait of Quinn. And Rick has done a spectacular job with international sales, so this CEO appointment really stings. Mess with Rick and you're messing with Maya.
At least Ridge has a consolation prize in Brooke. They hit the sheets during the December 5 episode and get engaged right before Christmas.
They are finally headed for the finish line. But will they cross it? Ridge will be so consumed with what's happening at Forrester that it may get in the way of those wedding plans. And we haven't heard the last from Bill Spencer [Don Diamont]. He's a man who gets what he wants and he's not giving up on Brooke.
RELATED: The Young and the Restless' New Head Writer Reveals Her Plans
What's up with this sudden rivalry between Quinn and Katie (Heather Tom)? If Quinn is so emotionally stable now, why is she freaking out with jealousy? These two women have no real history together.
It does come out of the blue. Quinn is still Quinn and she can't handle her new husband having female friends. Katie's physical proximity as their new next-door neighbor is bad enough but Katie and Eric have a real friendship and a long history. When they start talking fondly about the good old days, Quinn just can't stand it. That's going to play big in 2017. It's a very delicious thing to explore, especially with Rena and Heather—two great actresses who have never had much to do together on screen. This whole thing started with my wanting to see them mix it up. My dad [the show's late cocreator Bill Bell] used to do it that way. [Laughs] He'd say, "Names on the page!" That's where he'd start with a story between two characters. I'd say, "But they have nothing in common. What are they going talk about?" And he'd laugh and say, "Well, I don't know yet. But, damn, it's gonna be good!"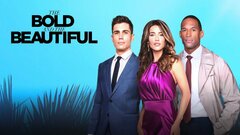 Powered by