'Drunk History': Season 4 Finale Explores Disco Demolition Night in Chicago
"Would I ever believe I'd be in TV Guide Magazine with an episode called 'S–t Shows'? No!" shouts Drunk History cocreator and host Derek Waters (above, with Jenny Slate). The Season 4 finale of the Emmy-winning Comedy Central series—which features super-tipsy narrators telling true historical tales performed and lip-synched by super-game actors—is particularly close to Waters's heart. His pal and frequent collaborator Bob Odenkirk (Better Call Saul) narrates the "Disco Demolition Night" segment about a disastrous evening at Chicago's Comiskey Park in 1979.
RELATED: Drunk History Visits the Story of Hamilton and More for Season 4
The tale is personally meaningful to both men. "The main reason that I know Bob Odenkirk and his wife is [because of] where this story comes from—which is through a mutual friend, Jim Zulevic, who passed a couple years ago," Waters explains. "He wrote this movie Disco Demolition with Bob and they never got to make it. I was just thinking, 'Man, I love Jim and it would be really cool to tell this story,' and Bob's always wanted to tell this story. Without being cheesy, it was a huge honor to have Bob do it and also it was just nice to give a little shout-out to our buddy Jim Zulevic."
The idea of you and Bob tipsy in his living room makes me ridiculously happy.
Me too! It's the reason that's the last story of the whole season. If I die with that being the last thing, I'm good! I don't mean that in a dark way—it's a big blessing!
Who gets the honor of acting out Bob's words?
Colin Hanks plays Steve Dahl, the DJ, and Patton Oswalt is a pyrotechnic. I don't want to give too much of his character away, but it's really, really funny.
The episode also features Jenny Slate talking about iffy vaudevillians the Cherry Sisters. What more can you tell us about that?
A researcher on our staff pitched the idea: "Well, they have a song called 'Corn Juice.'" My all-time favorite movie is Waiting for Guffman, and there are songs in the segment that sound very similar to "Red, White and Blaine." I wanted to make the Cherry Sisters feel like [Guffman's] Blaine Community Players: They don't know how bad they are. And the cast is ridiculous: Mary Lynn Rajskub, Allison Tolman, Andrea Savage, Ashley Johnson, Jessie Ennis—and Ben Folds as their brother!"
Drunk History, Season finale, Tuesday, Dec. 6, 10:30/9:30c, Comedy Central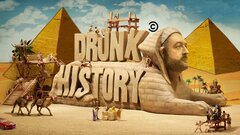 Powered by