'Criminal Minds': Damon Gupton 'Hits the Ground Running' With the BAU
Every episode of Criminal Minds has fresh blood. On Wednesday night, it just happens to be of the walking, talking variety. Actor Damon Gupton (Prime Suspect) joins the show as the Behavior Analysis Unit's latest recruit, agent Stephen Walker, a former G-man trained in using criminal profiling (the BAU's stock-in-trade) to catch spooks.
RELATED: Criminal Minds: First Look at the Return of Paget Brewster In the Post-Gibson Era
Walker is also an ex-colleague of BAU boss Emily Prentiss (Paget Brewster). Just don't expect the pair to do much reminiscing while there is a serial killer (nicknamed Mr. Scratch) on the loose.
"Walker is an intelligent man and the personification of honesty and integrity," Gupton says. "He hits the ground running, bringing his experience hunting spies to the job, and he takes a specific interest in Mr. Scratch." Though Gupton himself did take a little time to stop and smell the…leather. "The first time I got to sit in the BAU jet," he says, "well, I'll never forget it!"
Criminal Minds, Wednesday, Dec. 7, 9/8c, CBS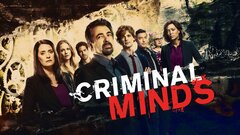 Powered by