How 'This Is Us', 'Designated Survivor' and Other New Network Shows Became Hits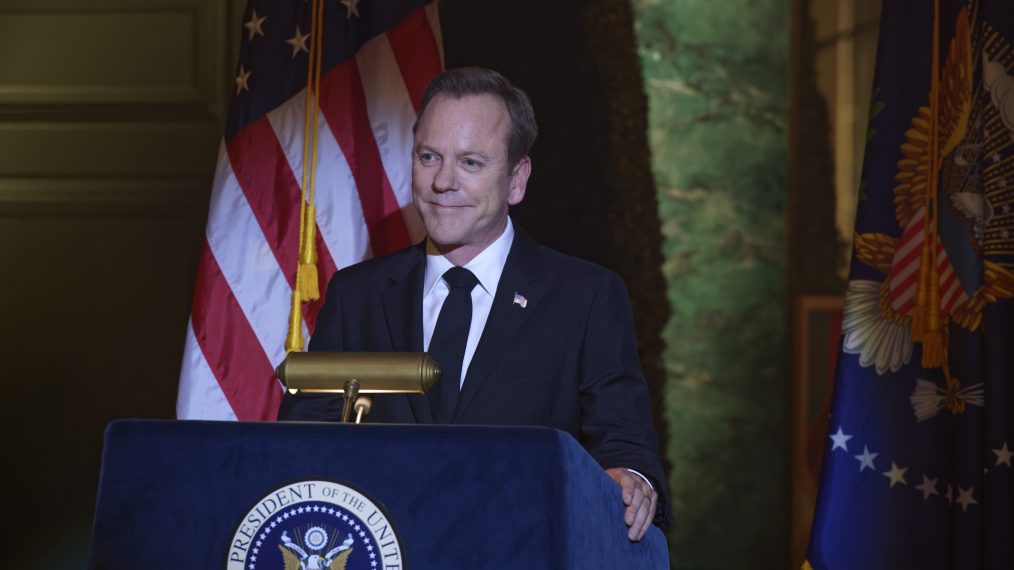 It's been a fairly calm fall for broadcast television. The season launched with 20 new shows on the five networks, and while some didn't see their episode orders increased (ABC's Conviction and Notorious; The CW's No Tomorrow and Frequency; CBS's Pure Genius), none were outright pulled from the schedule. In addition, all but one of the broadcast networks saw at least one series break out from the pack into a bona fide hit (sorry, CW). Here, some insight into the unique circumstances that are helping them succeed.
---
Designated Survivor
Kiefer for president! The ABC drama—which finds Kiefer Sutherland's Tom Kirkman as the commander in chief after an attack on the Capitol leaves almost the entire government dead—is winning over the viewing electorate. Designated Survivor has improved ABC's Wednesdays-at-10/9c time period by 101 percent in total viewers and 75 percent in the advertiser-friendly 18–49 demographic compared to last season (when Nashville aired in the slot), and it's the No. 2 new drama in the 18–49 demo after three days of DVR are factored in.
"In a political climate, Designated Survivor resonated with some things that were actually going on," says Andy Kubitz, ABC's executive vice president for program planning and scheduling. "Either it was some sort of escapism or parallel thinking, and audiences love that."
It also doesn't hurt to have Sutherland as the man playing the new president. "Who doesn't want Jack Bauer in the White House right now?" jokes Kubitz, referring to the actor's iconic role on Fox's 24. "He's exciting, dynamic and he's a TV star. He's easy for people to watch and root for."
Designated Survivor, Wednesdays, 10/9c, ABC.
---
Kevin Can Wait
CBS's No. 1 new comedy, which regularly lands in the Top 20, has familiarity going for it as well. Star Kevin James has returned to TV in a domestic sitcom that's not too far removed from his previous hit, The King of Queens. James plays retired cop Kevin Gable, "an affable, likable, predictable character—and I say 'predictable' in a good way," says Robert Thompson, director of the Bleier Center for Television and Popular Culture at Syracuse University. "We not only know what we're going to get with Kevin James, we know what we're going to get with that kind of program."
Thompson also believes that at a time when intense series like The Walking Dead and Game of Thrones reign, viewers sometimes desire an easier-to-stomach alternative. "On Saturday you might have a French meal at a gourmet restaurant," he says, "but sometimes you just want a cheeseburger. Kevin Can Wait is a cheeseburger." (CBS also has the No. 1 new drama in total viewers with Bull.)
Kevin Can Wait, Mondays, 8/7, CBS
---
This Is Us
Last May, the trailer for NBC's family drama garnered 50 million views on Facebook in just 11 days, as well as positive critical reviews before its premiere. But it was still a risk, as family dramas don't often score big ratings (see: the network's critically loved but low-rated Parenthood).
NBC Entertainment president Jennifer Salke says she wasn't worried that This Is Us, broadcast's No. 2 new drama overall and No. 1 with viewers age 18–49, would connect with an audience. "From Day 1, I knew from [creator] Dan Fogelman what kind of show he wanted to do. I knew that big surprises and watercooler moments [in every episode] were part of its critical DNA."
Shedding a tear or two has also become integral to the show's appeal, and viewers wear it like a badge of honor. "I look through all the Facebook and Twitter comments," Salke says, "and you have men who are like, 'Hey, honey. What time is that show on that will make us cry?' They want to cry!"
This Is Us, Tuesdays, 9/8c, NBC
---
Lethal Weapon
Name recognition alone does not guarantee success for a film-to-TV adaptation (case in point: CBS's failed Rush Hour last season), but Fox's Lethal Weapon reboot is proving its worth with a 22 percent ratings increase in the 18–49 demo after seven days of DVR viewing compared to last year, when Rosewood held the Wednesdays-at-8/7c time period. (Honorable mention goes to CBS's MacGyver, another successful reboot this fall.)
Lethal's secret weapon? "Casting, casting, casting," says David Madden, Fox's president of entertainment. "We work hard on the plots and we work hard to build the supporting characters and give them meaningful things to do in the show," he adds. The series' success, Madden says, "is the relationship between Damon Wayans and Clayne Crawford [as Murtaugh and Riggs]. They are spectacular together."
Lethal Weapon, Wednesdays, 8/7c, Fox