'Law & Order: SVU' Is Bringing Back Demore Barnes as Garland
If you've been missing (former) Deputy Chief Christian Garland (Demore Barnes) as much as we have — especially as Captain Olivia Benson (Mariska Hargitay) clashes with Chief McGrath (Terry Serpico), who's temporarily taking over his job until a permanent replacement is named — you're going to love this news about Law & Order: SVU.
Barnes is set to guest star this season, according to Give Me My Remote. We'll have to wait to find out what brings Garland back and in what capacity he'll be interacting with Benson and the rest of the SVU squad. "What? You didn't think there'd be an encore?" Barnes wrote alongside a photo on Instagram after the news broke. Check it out below.
View this post on Instagram
Between Seasons 22 and 23, it was revealed that Barnes and Jamie Gray Hyder would be exiting the series. This season's premiere wrote out Garland and Detective Katriona "Kat" Azar Tamin, with both leaving their jobs. Garland sort of left on his volition, in the sense that McGrath hung him out to dry and the higher-ups didn't see him as a team player since he disagreed with how police misconduct was being handled. They wouldn't fire him, but Garland took his father's advice: "Move on. Truth is you'll be more dangerous to them outside the department than in." (Kat, too, quit, after realizing nothing would change at the NYPD. "I gotta get out before I get too deep," she'd told Benson.)
So what will bring Garland back? Will he have followed his father's advice and end up crossing paths with SVU during a case as a result? Will he turn to Benson for help, or might she or someone from the squad reach out to him? And will McGrath still be overseeing SVU when Garland shows up, or might we have a better idea by then of who will be permanently taking over that position?
Law & Order: SVU, Thursdays, 9/8c, NBC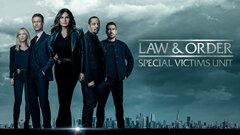 Powered by